Russian, Indian defense ministers to discuss cooperation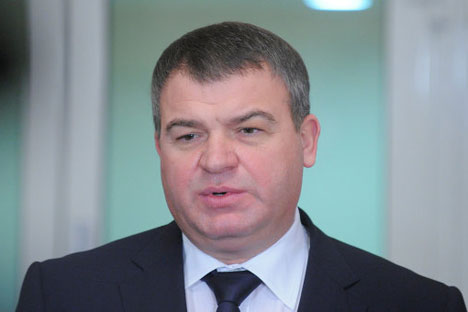 Anatoly Serdyukov. Source: RIA Novosti
Russian Defense Minister Anatoly Serdyukov and his Indian counterpart Arackaparambil Kurian Antony are to hold a meeting of the intergovernmental commission on military-technical cooperation on October 4, the Russian ministry reported.
Serdyukov and Antony, who arrived in Moscow on an official visit onOctober 3, are going to "discuss urgent issues of bilateral relations in the [military] sphere," the ministry said in a statement.
The head of Russian state arms exporter Rosoboronexport, Anatoly Isaikin, said in September that India remains Russia's largest strategic partner in military-technical cooperation.
Isaikin said Russia is taking part in 20 tenders in India, with which it has a military-technical cooperation agreement until 2020.
The bilateral military cooperation program in particular stipulates that Russia will transfer the K-152 Nerpa attack submarine to India on a 10-year lease by the end of 2011. The deal was signed in 2004.
Other aspects of cooperation include the planned delivery of INS Vikramaditya (the former Soviet aircraft carrier Admiral Gorshkov) to India in December 2012 after an upgrade, and the contract to supply India with 80 Mil Mi-17 Hip-H helicopters, expected to be fulfilled by the end of 2013.
All rights reserved by Rossiyskaya Gazeta.