The British Alternative Hair Show comes to Russia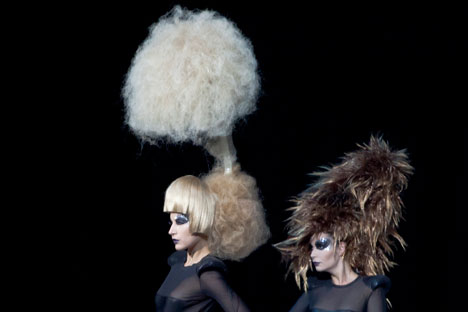 A surprising theatrical production has taken place at the Kremlin Palace of Congresses, demonstrating the work of stylists and hairdressers.
Photos by Liza Azarova; Reuters
On Sept. 29, the world famous Alternative Hair Show (AHS) place for the first time in Russia. The show was held at the Palace of Congresses in the Kremlin. This year's theme was "Illusions." Each of the 17 teams of stylists tackled the theme in their own way, drawing inspiration to create styles from everywhere – from the primeval past to futurism, from painting to the theater.
Although the Alternative Hair Show is popular and well-known in other countries, in Russia it was known only within the fairly small circle of professional stylists. Over the 29 years of its existence, the AHS has been held in the UK, where it was founded, as well as in Japan, Austria, Italy, Korea and the United States. Traditionally, all the proceeds from the show are donated to charities that help children suffering from leukemia. This is done in memory of the son of Alternative Hair founder Tony Rizzo, who died from the disease 30 years ago.
This year, half of the ticket proceeds will go to Britain's Leukaemia & Lymphoma Research charity, and the other 50 percent to Russia's Gift of Life.
"Our aim is to make a difference, to show that beauty can cure," Rizzo said, according to The Moscow Times. "We have some of the biggest names in the industry coming to show their collections in Moscow for the first time. It's like the Eurovision song contest for hair — only bigger because we have the best designers from the whole world."
In addition to Tony Rizzo himself, the show's opening in Russia was attended by Anthony Mascolo, the president of the project;representatives of WellaProfessionals, the main sponsor; top stylist Dmitry Vinokurov, organizer and president of Alternative Hair in Russia; and Dolores Kondrashova, honorary international patron. Russian tennis player Dinara Safina acted as master of ceremonies.
All rights reserved by Rossiyskaya Gazeta.