Goodbye, my Nizhni Novgorod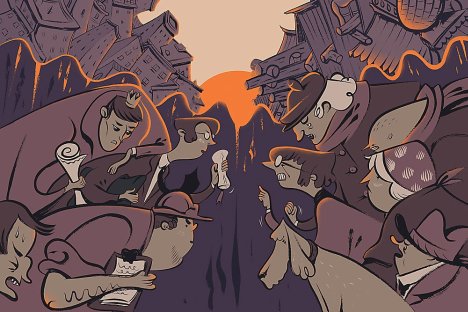 As my taxi crossed the bridge over the Oka River, passing over a steep, picturesque river bank, we rolled into the sleepy center of Nizhni Novgorod.

I looked around in dismay at my hometown.

The city seemed deeply scarred: The remains of burnt wooden and brick merchant mansions from the 19th century, once the pride and charm of the old town, were hidden behind garish billboards. Dozens of homes in the middle of the city looked like war ruins. Some of the abandoned old houses had graffiti on them, drawings of crying faces. Monstrous glass and concrete cubes dominated once tranquil and shaded streets; I could still picture them, with my eyes closed, as they once were.

This is not the first time bulldozers arrived to demolish a 790-year-old city that was once Moscow's most reliable military fort against the Tatars of Kazan. Both Czarist and Stalinist developers demolished a dozen 13th- and 15th-century tent-roof and gold-domed churches in and around Nizhni's Kremlin.

It was not the city's fate to get destroyed in war: Houses fall here in peacetime. Nizhni has long had a penchant for self-destruction.

To clear space for the House of Soviets, the Transfiguration Cathedral, the pearl of Nizhni Novgorod's 16th-century architecture, was blown up in 1931. The grave of Kuzma Minin, the hero famous for raising a volunteer army and saving Moscow from Polish invaders, was moved out of the Kremlin. For decades, original architecture had been torn down to make way for gray, Soviet-era apartment blocks.

But not since the Mongol invasion has there been so much destruction to Nizhni Novgorod's wooden architecture in a single year. The regional authorities took 76 architectural monuments off the city's historical register, making it possible to re-build or demolish them. The list includes the city's Evalanov house, a graceful classicist home built in the beginning of the 19th century. A pearl of local baroque, the mansion of A.R. Batashev's mansion, has been gutted and the developer is planning some kind of pastiche reproduction to replace it.

City officials have told me that nothing can be done to stop the process, arguing that many of the buildings are in such bad condition they cannot be preserved. But it seems that Nizhni Novgorod authorities simply do not embrace the idea of restoration and preservation—office buildings have even appeared inside the ancient Kremlin walls.

The region's governor, Valery Shantsev, was deputy to Moscow mayor Yuri Luzhkov at a time when he oversaw the swift destruction of hundreds, more likely thousands, of historic buildings. Now Nizhni is Moscow-on-the-Oka, a playground for the developer's bulldozer.

Decades ago, my father, then a "Pravda" newspaper reporter, wrote an article called Heritage, criticizing the Soviet state plan for reconstructing the city center by demolishing its older buildings. A delegation from Moscow arrived in response and my father was called to the local authorities in the Kremlin. "What part of the city would you like to preserve?" a Moscow bureaucrat asked my father, pointing at a large city map spread across a table. The architecture lover and reporter climbed on the table and lay down on the map, covering the entire city with his body. The development was cancelled.

This year, activists in Nizhni Novgorod have tried various tactics to try to save their town. Dozens of protestors came out to stop the construction of an 18-floor tower on Kavalikhinskaya Street, but private security guards clubbed protestors. The local state television channel aired a documentary detailing the old town's disappearance, block-by-block, alerting authorities to stop before it was too late. But houses continued to disappear. Some caught on fire at night, which was one way to avoid the paperwork of having them condemned.

Some defenders of local architecture are restoring homes against the odds. Lidiya Davydova–Pecherkina lives in an unusual 19th-century house topped with a tall round tower. She restored the building by studying archives. But restoration didn't stop developers from tearing down the house next to her, blighting the street. She vows never to leave her home. Elena Karmazina, an architect, has already restored one mansion. She has now moved into a magnificent, if rundown, 19th-century house on Studenaya Street, which she also plans to restore. "If all city architecture lovers move into the older buildings and try to fix them, we might save something," Karmazina said. I hope they succeed in preserving the best of what is left of our city's heritage, but our hometown is almost out of time.

Music by Jose Bautista
Adam Lukaczs, violin
Jose Bautista, piano
Photos by Anna Nemtsova
Video by Yuri Nemtsov
Editor Anton Verstakov

All rights reserved by Rossiyskaya Gazeta.