NMDC looks at Russian coal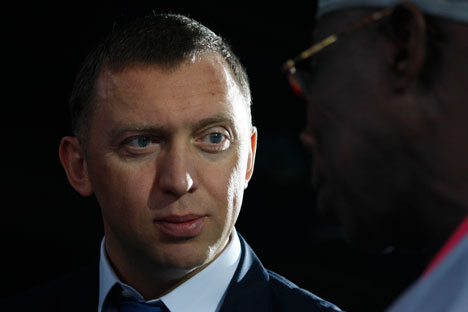 Oleg Deripaska. Photo by Nikilay Korolyoff
The company wants to buy Erchim-Tkhan from En+ in Yakutia.
The Indian metals company NMDC is continuing its attempts to obtain coal assets in Russia. After talks on acquiring Kolmar from the ONEXIM Group fell through, NMDC launched negotiations on purchasing a controlling stake in the Yakut coal mining company Erchim-Tkhan from the En+ Group of Oleg Deripaska (owner and CEO of Basic Element, a diversified investment group established in 1997) . En+ has put the company up for sale because it wishes to focus on its coal projects in Tyva and Eastern Siberia.
The Indian news agency IANS quoted NMDC Chairman-cum-Managing Director Rana Som as saying that his company might buy a 45–70% stake in Yakutia's OOO Erchim-Tkhan from Oleg Deripaska's En+ Group. En+ declined to comment on the talks with NMDC but a source close to the Group corroborated the IANS report.
The En+ Group owns three key coal assets: Vostsibugol (part of Irkutskenergo, 2010 output: 15 mn tonnes of coal, reserves: 1.2 bn tonnes), Tyvinskaya Mining Company (TGK; output: 1 mn tonnes, reserves: 100 mn tonnes), and OOO Erchim-Tkhan (141,000 tonnes and 70 mn tonnes, respectively.) Erchim-Tkhan is 50.1% owned by En+, 20% by North Korea's Vneshugol, 4.4% by the Government of Yakutia, and another 25% by the Baltiyskaya Trading and Industrial Company.
India's NMDC is prepared to spend $400 mn by 2013 to develop OOO Erchim-Tkhan, a coal mining company it is yet to acquire.
Erchim-Tkhan was put on the block early last summer. En+ wants to concentrate on developing its Eastern Siberia assets before anything else, according to the holding company's CEO Artem Volynets. He said Vostsibugol's output would increase to 25 mn tonnes within three years and to 40 mn tonnes over a longer term. The plan for TGK so far is to expand its reserves to 350 mn tonnes. Sources on the coal market have indicated that TGK plans to acquire the neighbouring Kaa-Khemskoe coal deposit, with 230 mn tonnes of reserves, the auction for the licence to which was announced a couple of weeks ago by Tyvanedra. En+ plans to use the proceeds from the sale of Erchim-Tkhan to develop its other coal projects.
This is not NMDC's first foray on to Yakutia's coal market. In July 2010, the company was in talks about acquiring Kolmar (reserves: 400 mn tonnes) from Intergeo, part of Mikhail Prokhorov's ONEXIM Group (Intergeo itself paid $300 mn for the Yakut company in April 2010.) The parties failed, however, to agree the price. As a result, Gennady Timchenko's trading company Gunvor bought Kolmar in July 2011 for $250.
NMDC is prepared to pay up to $60 mn for Erchim-Tkhan, according to its Technical Director Narendra Kumar Nanda, as quoted by Dow Jones. This implies a valuation of $86 mn for the entire company (En+'s stake: $43 mn.) NMDC plans to increase Erchim-Tkhan's capacity to 1.5 mn tonnes of coal annually by 2013, at a cost of $400 mn. The deal is expected to be finalised by the end of this month.
Erchim-Tkhan's valuation is in line with the market, according to Maksim Matveev from ING. For example, it corresponds to the current market value of Raspadskaya based on reserves. The analyst believes that valuing the deal on the basis of output would be wrong, as it is not representative at present. NMDC's Financial Director Swaminathan Thiagarajan mentioned in July 2010 that his company planned to supply the Yakut coal to two of its steel mills under construction in India, at Chhattisgarh (value: $3.6 bn, launch: in 2014) and Karnataka ($2 bn.) NMDC plans to build the latter plant jointly with Alexei Mordashov's Severstal; the parties are expected to sign a contract in October.
All rights reserved by Rossiyskaya Gazeta.