Sibmost – building bridges from Novosibirsk to India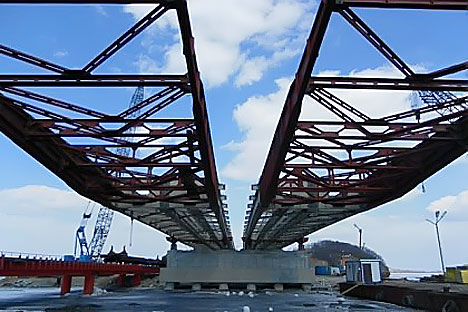 Novosibirsk bridge-building and large-scale construction firm Sibmost, (controlled by Albert and Vladislav Koshkin), is going to set up a daughter company in New Delhi before the end of the year. International expansion is nothing new for Sibmost, but its previous experiences in this field have not all been plain sailing – the company's attempt at conquering the German market fell through; its German branch brought nothing but losses and was soon mothballed. The outlook for the Siberian bridge-builders in India is more optimistic: Sibmost already has an Indian partner, and the local construction market is notoriously dynamic with a good track record for being open and loyal to experienced players from other countries.
Albert Koshkin, president and main beneficiary of the company, told journalists that Sibmost had started operations in India. According to him, Sibmost has already won three tenders for constructing roads, bridges and attendant infrastructure facilities in consortium with the Indian contractor Era Group. Having set its foot in Indian construction business, Sibmost still has a way to go. "The company is not actually building anything in India yet, we are just providing engineering support for the tenders", said Koshkin. "And we receive money for this". The company's president did not divulge the share ratio in the Sibmost consortium, but says that the Indians have a dominant stake at the moment. But he added that "the Indian party is prepared to review the share ratio for construction; if we want they'll either sign over half of it or the whole thing, though this is not among our immediate plans" said Albert Koshkin.
But then he did say that Sibmost is going to set up a daughter company in New Delhi before the end of the year. And after this the company will probably start to get involved in construction as well as structural design and engineering.
The Siberian firm got to know the Indian company in Moscow, where the Era Group is represented. After this a delegation flew to India and assured themselves that working here would be relatively risk-free. Koshkin expressed regret about an insufficient number of Indian companies to account for such large-scale investments. "There is a lot of investment going into road-building. There are not enough Indian construction companies to meet this demand", he explained.
And India has actually created one of the largest road networks in the world – stretching more than 3.3 million kilometres. India's economy is developing very rapidly, so the government is keen to build strong links to unite all parts of the country – to keep pace with the economic development tempo. It could be said that transport infrastructure is a similarly pressing concern in Russia, but the country that bought us the Buddha and all those films that were popular in Soviet times seems to be addressing the issue more decisively. And now India proves that its road-building business is as good as its movies that won the hearts of Russians several decades ago."Industrialisation is happening fast in India, this process is going to last for more than one decade. The government's 11th 5-year-plan for economic growth is currently being implemented, and a special emphasis is being put on developing and improving infrastructure. A transport system is being put in place for the cities with 130,000 kilometres of state-owned highways and about 300,000 kilometres of major urban routes. All this makes India a very attractive place for investors at the moment", says Vladimir Svinarenko, head foreign investments department at IFK Solid.
And surely, Russian construction companies have got the hunch of it and appreciate working with India in this field. For instance, the daughter companies of big Russian construction concerns Transstroi and Tsentrdorstroi have been carrying out contractual work in India since 2006. Russian engineering companies are also gaining a strong foothold in the Indian market. For example, the Indian office of Russian company OJSC Giprodornii specialises in designing bridges, tunnels and flyovers in India's Northern states along the border with Pakistan.
All rights reserved by Rossiyskaya Gazeta.