Energy: Russia eyes Asia-Pacific, India markets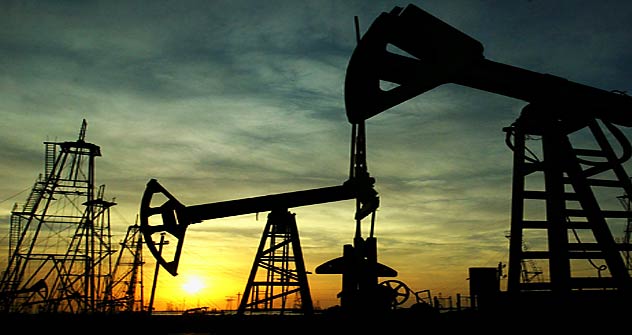 Source: Reuters/VostockPhoto
With Europe looking for alternatives, Russian energy strategy envisages a substantial hike in hydrocarbon exports to the dynamic Asia-Pacific region and India.
Russia, the world's second largest oil exporter, is a natural energy super power.
It accounts for 12 per cent global oil trade, one third of global gas reserves, and holds 20% global coal reserves, is a natural energy super power.
It's nuclear energy industry controls 15% of the global nuclear reactors market and accounts for 45% enrichment market and 15% of market of spent fuel conversion, apart from having huge hydropower potential. Russia also accounts for 8% global production of natural uranium. Russia would undeniably remain a leading player in the global hydrocarbon market in coming decades and plans to actively participate in the development of electricity and coal markets while strengthening its position in global nuclear energy industry.

Under Russia's energy strategy covering the period up to 2030, the share of European market in the total volume of energy export will steadily decline due to export diversification to the Asia-Pacific region. The share of eastern energy market in Russian energy export of liquid hydro-carbons would grow from 6 to 25% while the share of natural gas export would grow to 20%. The European Union makes no secret of the fact that its increasing import dependence on Russia has to be kept within limits. This prompts Russian energy planners to diversify their energy exports, accessing new oil and gas markets in the Asia-Pacific region. The Russian government proposes to diversify energy supplies to the North, South and East and promote energy production in East Siberia, Far East and the Arctic. Over the next two decades, Russia does not have any plan to increase its energy exports to the EU in physical terms. On the contrary, the energy strategy stipulates that energy exports to Asia-Pacific could reach 105 million tonnes.

The strategy envisages that towards the end of projected period oil and gas exports to Asia should amount to one third and one sixth of the total cross-border supplies of these hydrocarbons respectively. While only 3% Russian energy exports goes to Asia at the moment, it would reach 30% by 2030. The plan includes building an oil pipeline linking Yurubchenko–Tokhomskoye oil and gas fields in Krasnoyarsky krai, and Talakanskoye and Verkechenskoye oil fields in Yakutia with the existing oil pipeline that runs from West Siberia to Angarsk. The East Siberia-Pacific region pipeline linking Taishet to Nakhodka would be one of the major transport channels for exporting Siberian oil to the Asia-Pacific region.

Under the strategy gas production would increase through development of deposits in Jamal peninsula, continental shelf of Arctic seas including Stockman deposits as well as in East Siberia and Far East, regions where India has strong energy interests. Twenty-six deposits with proven reserves of 14.4 trillion m3 were discovered in Jamal peninsula. The development of these deposits in Jamal will require $166 to $198 billion in next 25 years.

The gas production in Eastern Siberia and the Far East will be developed on the basis of Kovytkinski deposit in Irkutsk region, Chayandinsky deposit in Yakutia, hydrocarbon deposits in Krasnoyarsk territory and shelf of Sakhalin and Western Kamchatka. The construction of multilane gas transport system with a length of 2400 km, for transporting gas from Yamal to Ukhta compressor plant and further to the town of Torzhok will become one of the significant projects in future. Along with gas pipelines, projects in LNG production and transportation would be dynamically developed.
India and Russia are natural, genuine, special and privileged strategic partners, and one of the strong pillars of their strategic partnership is bilateral cooperation in the vital energy sector. Import, mostly from the volatile region of Middle East, account for 75% of India's energy needs, and it is likely to grow to 85 to 90%. To sustain current high rate of growth, India needs secure and diversified sources of energy import. According to the International Energy Agency, India would be the third largest energy consumer in the world by 2025 after US and China. Russia, our trusted strategic partner for many decades, is destined to play a vital role in ensuring India's energy security in coming decades.

The former Soviet Union played a major role in building India's energy sector by building tens of hydropower stations, developing our coal industry, finding oil in Indian soil and helping in setting up India's energy major ONGC. Indo-Russian energy cooperation acquired new dimensions in the post-Soviet period, particularly in the hydrocarbon and nuclear sector. India has invested $2.8 billion in the Sakhalin energy project, controlling 20% stakes in the venture and has purchased Imperial Energy, a London-listed oil major in Tomk region. These are India's largest investments abroad. Nord Imperial, a subsiadiry of Imperial Energy, has been among the companies that submitted applications to bid for developing Russia's Trebs and Titov oil deposits in the Arctic. India has been eying energy projects at Timon Pechora basin and Vancour in the East Siberia. It is also considering an option to invest $1. 5 billion to $1.7 billion used for an opportunity in Yamal peninsula that houses one-fifth of global natural gas reserves, offered by Russian firm Navatek. Russia's 'Project Yenisey' involves an upstream hydrocarbon block-linked natural gas liquefaction project and liquefied natural gas marketing. The Indian state-run energy majors that are exploring the possibility of having a strong footing in Russia's energy sector include ONGC, GAIL, and Petronet LNG Ltd. GAIL plans to invest Rs 7000-8000 crore in Yamal-Nanets region and has the option to market that LNG or even bring back to India. Novatek has a 51% stake in OAO Yamal LNG, which has the licence for exploration and development of the South Tambeyskoye field located in the northeast of the Yamal peninsula.

The Russian energy strategy towards the Asia-Pacific region clearly mentions India as one of the important target countries along with Japan, China, and Korea. India has to carefully take note of Russia's hydrocarbon vision, particularly towards the Asia-Pacific region, if it wants to have a strong presence in Russia's massive energy sector that can help ensure India's vital energy security. This is outlined in a volume jointly edited by Prof Aleksei Arbatov, corresponding member of Russian Academy of Sciences, Prof Arun Mohanty of Jawaharlal Nehru University, Vasily Mikheyev, corresponding member of Russian Academy of Sciences and Prof Larisa Ruban.
All rights reserved by Rossiyskaya Gazeta.