With the NBA season on hold, top players are looking for contracts overseas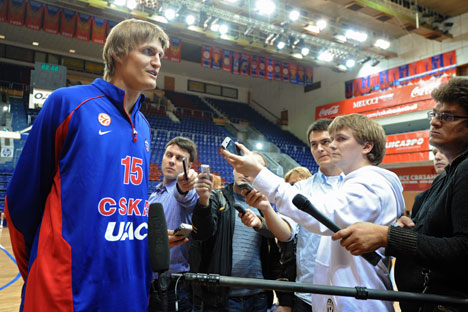 Andrei Kirilenko. Source: Kommersant
Andrei Kirilenko is headed back to Russia to breathe the air of home after 10 years with the NBA's Utah Jazz. He will be returning to his old team, CSKA Moscow, where he first became recognized as a top player. Kirilenko is one of several NBA players headed to the European market as the chances of NBA players and owners reaching a collective bargaining agreement becomes less and less likely.
Euroleague teams are going shopping for players, and signings are becoming more and more frequent. Tony Parker, who helped the San Antonio Spurs win three NBA championships, is going back to France, where he will play for Villeurbanne, in which he is a shareholder. Another French star, Nicolas Batum of the Portland TrailBlazers, will play for SLUC Nancy. Deron Williams, of Mikhail Prokhorov's New Jersey Nets, went from Brooklyn to Turkey's Besiktas, while the Gasol brothers (Pau, of the Los Angeles Lakers and Marc, of the Memphis Grizzlies) have begun training with Barcelona, the team with which they began their careers. CSKA has also held negotiations with a new American sensation, Oklahoma City Thunder's Kevin Durant.
Andrei Kirilenko was born on Feb. 18, 1981 in Izhevsk, west of the Urals. He made his first foray into basketball in 1997 with Spartak St. Petersburg as the youngest player to debut in the Russian Superleague. He then moved to CSKA, where he remained from 1998 to 2001. The team won the Russian league in his first year, and a year later became the youngest European player to be selected in the NBA draft, where he was chosen in the first round by the Utah Jazz. In 2003, he was named one of the top five rookie players and a year later, in 2004, was chosen for the All-Star Game. That same season the same season he set another record, becoming only the second athlete in history to rank in the top five for points, rebounds, assists, stops and caught balls. Kirilenko helped the Russian national team win the 2007 European championship in Spain, and he was nominated for tournament MVP. Last month, he played on the Russian squad that took third place in the European championships in Lithuania.
After the club's disastrous performance in last year's Euroleague tournament, the team started to pursue Kirilenko. After a season in which team management had to apologize to fans, CSKA was willing to make a serious investment in players. In recent days, Nenad Krstic, a former player with the New Jersey Nets and the Boston Celtics, has arrived, along with Ksistof Lavrinovic, Anton Ponkrashov, Evgeny Voronov, Sammy Mejia and Milos Teodosic. But the team's real coup was the signing of Kirilenko.
Kirilenko, who is known as AK-47 in Utah, played in the 2004 NBA All-Star Game, was named one of the top five NBA defenders in 2005, and was elected the best European player in 2007. Kirilenko came into negotiations in an enviable position. He was a free agent – his $17.8 million contract with Utah Jazz had ended – and the three-year-contract he signed with CSKA has an NBA escape clause, which will allow him to withdraw from his contract within 30 days of a resolution to the American stand-off. Kirilenko's salary with CSKA is not yet known. But Kirilenko already knows how he'll invest the millions of euros he is likely to earn.
"All the money that I receive here in Russia will be donated to my foundation, Kirilenko Kids, which helps less fortunate children," the player said. "I am proud to be back on the team where I took my first steps as a basketball player. CSKA is a great club with a great coach and outstanding players. It will be a honor for me to play for our Russian supporters."
CSKA coach Jonas Kazlaukas was not enthusiastic about the idea of coaching athletes with fixed-term contracts. "Should they leave you, you wouldn't know how to put things back together," Kazlaukas said. "Of course, every rule has exceptions and Andrei is one of them. He means a lot to this country, like Sabonis does to Lithuania, Gasol to Spain and Nowitzki to Germany. Furthermore, he grew up here. We will need a few weeks to put him in our game system, but he is a smart player and he will catch on quickly."
CSKA chairman Andrei Vatutin is thrilled with Kirilenko's signing: "When the lockout began, we thought it wasn't a good idea to buy a player that could leave after a few games, but we have made an exception for Andrei. He is a special player for CSKA, the best Russian player, and the best player must play for the country's best team".
Andrei Kirilenko's arrival at CSKA Moscow is just the most recent example of a top NBA player leaving the United States for Europe. New Jersey Nets playmaker Deron Williams has signed with Besiktas in Turkey. Mehmet Okur of the Utah Jazz also left for Turkey, signing with Turk Telecom Ankara. Spaniard Rudy Fernandez left the Portland TrailBlazers for Real Madrid. Then Danilo Gallinari moved from the New York Knicks to Olimpia Milano. Frenchmen Tony Parker and Nicolas Batum said goodbye to the San Antonio Spurs and Portland TrailBlazers for Villeurbanne and Nancy, respectively. Shortly thereafter, Turkish player Semith Erdern left the Cleveland Cavaliers for Besiktas, followed by Brian Scalabrin, who went to Benetton Treviso. Austin Saye has left the Detroit Pistons for Khimki Moscow, and Charlotte Bobcats player Boris Diaw is headed to Bordeaux.
All rights reserved by Rossiyskaya Gazeta.