Russia – India: Interests define the policy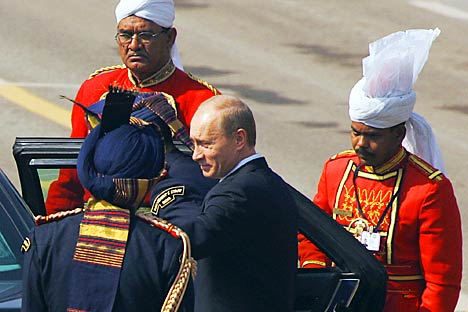 How can Putin's return to presidency affect Russian-Indian relationship? In anticipation of the results of Russian election Indian analysts debate on the Indian take on a possible political "wind of change" in Russia.
A recent visit of the Indian Defence Minister A.K.Antony to Russia served as a platform for a number of important steps such as the confirmation of the delivery schedule for aircraft carrier INS Vikramaditya and the lease of the K-152 Nerpa nuclear submarine. These are some of the areas of the long-term plan that envisages military cooperation between Russia and India up to 2020, which is the longest cooperation agreement that India has in this sphere. However, one should see a bigger picture behind the armaments deals. The impending election in Russia and much speculated on Russian current PM Vladimir Putin's running for President could mean changing the tone of the relationship between the two countries.
Indian journalist and parliamentarian Tarun Vijay suggests that while welcoming the possibility of Putin's taking the wheel, "building up its independent capabilities" may be beneficial for India. Although there are no grounds to expect the drastic changes in the Russian foreign policy as far as India is concerned still the power balance in the Russia-India-China equation may shift, especially in light of the recent Vladimir Putin's visit to China and resulting agreements on broadening of Russian-Chinese economic cooperation from traditional industries to high technology industries and signing $7 billion deals.
There have already been changes in Soviet-Indian relationship scenario under Gorbachev when despite remaining committed to friendship the USSR drifted a bit towards China in its foreign policy, and therefore Vijay doesn't rule out a probability of India's reconsidering its relationship with Russia and transforming Indian "complete dependence on Moscow" situation into a "healthy strategic partnership". While there are a sufficient number of factors that bring BRICS countries, and particularly India and Russia, together, for instance Islamist threat or US politics of dominance, still there is motivation to proceed cautiously in this cooperation. The situations such as the Vikramaditya (former Admiral Gorshkov) modernization delay and a resulting increase in costs as well as other situation with spare parts delays from the Russian side may induce the Indians to boost domestic spare parts production for the hardware supplied by the Russians.
But the medal has two sides and despite differences and disagreements, Russia and India still remain all-weather friends especially in view of Russian steady support of India in its conflict with Pakistan and India's standing by the former USSR and present day Russia in its rivalry with the USA in the space and military industries. But as a popular saying goes, a hedge between keeps friendship green. So may be as it often happens even in the closest relationships there is a need for space and room for development for each of the parties, and it can happily coexist with long-term strategic partnership.
All rights reserved by Rossiyskaya Gazeta.