Tymoshenko sentenced to seven years behind bars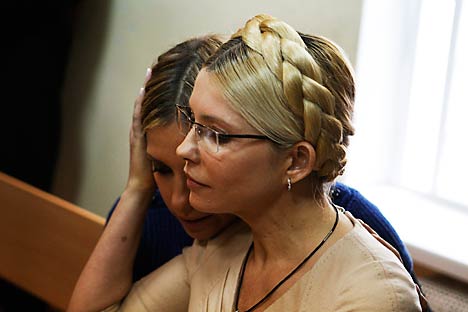 Ukrainian ex-prime minister Yulia Tymoshenko (R) and her daughter Yevhenia attend a session at the Pecherskiy district court in Kiev October 11, 2011. Source: Reuters / Vostock Photo
The former prime minister was found guilty of mishandling the negotiations that ended the 2009 gas war with Russia.
Is this the end of Yulia Tymoshenko's political career? On Oct. 11, a court in Kiev sentenced the former prime minister to seven years in prison for her role in brokering a gas deal with Russia. The verdict was not unexpected, but it raises serious questions about Ukraine's future relations with both the EU and Russia.
According to the court, the agreement between Kiev and Moscow that put an end to the gas war in January 2009 was imposed de facto on the state energy company Naftogaz and the price of $450 per thousand cubic meters cost the Ukrainian budget more than $179 million. Tymoshenko has always rejected the charges. In the last four months, she has repeated over and over again that the trial was part of a conspiracy organized by President Viktor Yanukovich to force her out of the political arena.
Tymoshenko, who last year moved from the government to the opposition, refused to stand up when the verdict was read; it was broadcast live on television and on the Internet. "This sentence will not change anything in my life or in my political struggle," she said, on arrival at the courthouse. Now the revolutionary struggle is going to continue from jail, at least for a while. It is very likely that some behind-the-curtains compromise will be reached.
The European Union has repeatedly warned Yanukovich in recent weeks not to use so-called "selective justice" to get rid of the opposition but all these requests have gone unanswered, even as Brussels and Kiev are holding negotiations on finalizing a partnership agreement and creation of a free-trade zone. Tymoshenko's harsh sentence may halt any EU-Ukraine negotiations and put Ukraine far from Europe, as worried opposition leader Arseny Yatsenyuk has pointed out.
For his part, former Ukrainian President Viktor Yushchenko, who was Tymoshenko ally during 2004's Orange Revolution but no longer sides with her, has declared that Tymoshenko's prosecution was not a political trial – rather that Tymoshenko caused economic damage to her country by prioritizing personal rather than public interests.
These different positions say a lot about how Ukraine and its politicians are still working to find a balance in the process of democratic transition that started exactly 20 years ago with independence from Moscow.
All rights reserved by Rossiyskaya Gazeta.