Belaruskali: the stake deal still hangs in the air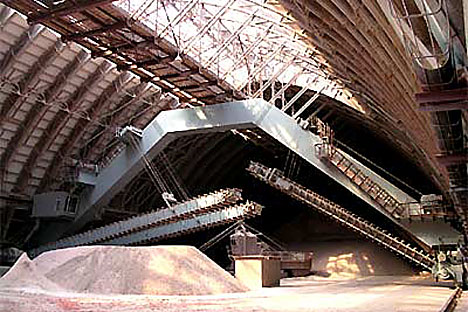 The Belarusian government's plans to sell the stake of the Belarusian potash company Belaruskali voiced earlier this year still haven't been realized. Is the cost of the stake declared by the Belarusian government too high, or the bids too low?
China, India, Qatar and Russia are interested to buy a stake in potash giant AAT Belaruskali and so are two Western companies, Aleksandr Lukashenko said on October 7 while meeting with a group of Russian journalists in Minsk.
70% of potash production comes from a few large players: Potash Corp, Mosaic, Agrium, Uralkali, and Belaruskali. They are known to have an almost cartel like control over prices. The relatively minor number of smaller players on the potash market can be explained partly by the significant amount of time and capital it takes to start a potash operation. That's why acquiring the stake at one of the potash giants could mean significantly enhancing the buyer's position in potassium business, and that's why the situation around Belaruskali garners attention.
The stake will be sold to the highest bidder, Mr. Lukashenko said, describing Belaruskali as a company that is "100 percent profitable. "Potash prices are forecast to rise to $1000 per ton within five years from between $500 and $600 at present, Mr. Lukashenko stated. Mr. Lukashenko claimed in late September that Sberbank agreed with the Belarusian government's assessment that Belaruskali is worth $30 billion. However, experts argue that the value of the Belarusian potash giant is about half the amount.
The Russian business daily Vedomosti reported that Russian tycoon Suleiman Kerimov, a co-owner of Uralkali was close to buying a stake of 50 percent plus one share in Belaruskali for $15 billion. But Russia is not the only country interested in the Belarusian potassium company. Currently, India is also considering the possibility of acquiring a stake in Belaruskali with the Belarusian government. The Indian newspaper Mint reported with reference to two senior officials at the fertilizer ministry that India was "looking to acquire a 20-25-percent stake" in Belaruskali for between $6 billion and $7 billion.
According to local press reports, the Belarusian government has given India the right of first refusal regarding the potential sale of potash producer Belaruskali. Indian newspaper "Mint" quotes Indian agriculture minister Pawar Sharad emphasizing the need to buy stakes in fertilizer companies abroad in order to "secure steady supplies of fertilizers at reasonable prices". Indian domestic demand for muriate of potash is about 5 million tonnes, and this year the country's potash imports are going to make about 2.1-2.2 million tonnes. If India could secure a long-term agreement with Belaruskali on potash supplies, it could prove beneficial for India's economy and an incremental negative for the major potash exporters.
All rights reserved by Rossiyskaya Gazeta.