Making it: Indian spins Titanium success story in Russia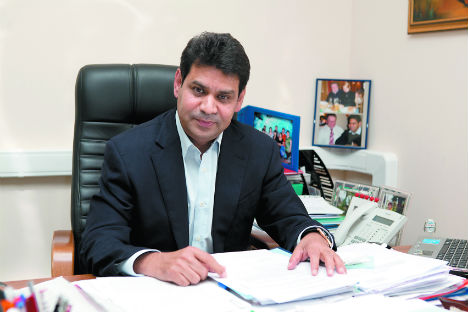 Photo by Anton Churochkin
Jugendra Singh Raghav, a Russia-educated businessman, has turned the volatile titanium business into a success story.
Dr Jugendra Singh Raghav has always thrived on challenges. Managing director of Stork International, GmbH and Chairman of titanium alloys producer Uralredmet, his office bears the impress of multiple cultures and reflects a mind that straddles tradition and modernity with ease. There is an Egyptian painting on one wall and a symbolic picture of the American dollar-ruled business world on the other. And then there is a statue of Shiva on his desk - a vivid reminder that even for the head of a multinational corporation it's important to remember who he is and where he came from.
Raghav came to study to the PFUR (Peoples' Friendship University) in 1979. He recalls his student days with warmth and nostalgia. He was also impressed by hospitality towards foreigners, especially Indians, in the Soviet Union. "One of my first memories was sharing a large loaf of bread and butter with his three roommates. Students and staff were very friendly," he says with a smile. "Also we Indians are used to drinking tea with milk and in those years sometimes one couldn't get milk in the shop. But I got a lot of support from students and staff at PFUR, and this friendly attitude helped me to overcome a lot of difficulties on my way," he reminisces.
After graduation, he got a PhD degree in agro-biochemistry and played around with the idea of staying at the university and teaching his favourite subjects. But it turned out destiny had a different trajectory for him.
"In the 1980s a lot of Indian companies were interested in Indian graduates to help promote Indian businesses in the Soviet Union. I worked with them for a while which helped me to get contacts of different Soviet enterprises."
Finally, he got a job at Uralredmet company. It wasn't a good time for the titanium market. "The only hope for us at that time was to fix exports. Western companies often mistrusted Soviet enterprises for some reason, and in this way foreign businessmen like me served good acting as bridges between both sides, and so we began supplying titanium ligatures to the USA, using modern equipment and new technologies," recalls Raghav.
One of the challenges of the industry is that the titanium market is very volatile and dependent on purchase orders, says Raghav, who has been now in the titanium business for over two decades. He believes in productive cooperation between private companies and the state, in which private enterprises conduct business rationally and pay attention to reducing expenses. This arrangement will work only when there is no shortage of purchase orders from the state. The partnership with VSMP-AVISMA corporation, the world's largest manufacturer of titanium ingots, therefore, proved to be beneficial to both parties.
One of the key problems Russian titanium market faces is that there is no longer diversification as it used to be in the Soviet times when a company could get, for example, titan ligatures from Tajikistan and titanic iron-ore from the Ukraine, says Raghav. After the collapse of the Soviet Union production is in different countries and Russian titanium companies often have to buy raw materials from Sri-Lanka, Vietnam, Mozambique and other countries, resulting in delivery problems and other kinds of issues.
But Raghav is optimistic about surmounting these problems. One of his company's priorities is developing the chlorum method because it guarantees good quality titanium and also is more eco-friendly than the sulfate method that is mostly used. But this depends to a large extent on the possibility of cooperating with big players in the titanium market such as DuPont and Crenex and their readiness to share the chlorum method technologies.
But the future looks promising. "There is sufficient demand for titanium in the aviation industry from big corporations such as Boeing and Airbus," he says. "At the moment there appears to be a slight delay in their purchase orders but we do expect more orders from Airbus 380 and Boeing Dreamliner in particular," he says. "But I hope they will sort it out by 2014 and the number of purchases will increase."
He is full of bright ideas for galvanizing the titanium business. First of all, he thinks the problem of dependency on raw materials should be addressed. And as he puts it his dream would be to have their own material basis for producing molybdenum, vanadium and other raw materials. A diehard optimist, Raghav is set for 2014 when the aviation industry's demand for titanium is expected to go up.
But it's not just business ambitions that obsess him all the time. He loves his alma mater and is one of the organisers of the EDU project which provided financial support to students from Southwest Asia and African countries wishing to study in Russia. This is his way of saying thank you to an institution which he says proudly has made him what he is today.
Dr Jugendra Singh Raghav.
All rights reserved by Rossiyskaya Gazeta.