Moscow continues to drive Russia's economic growth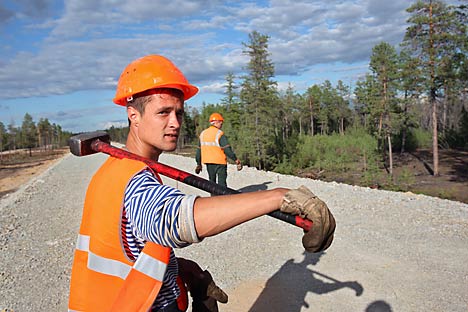 Employment in Russia is improving because jobs are being created in Moscow. Source: Kommersant
Moscow, St. Petersburg and Tyumen are among the regions actively employing Russians from other parts of the country.
On a Moscow street last Sunday, I spotted two young women dressed to impress. The way they looked and behaved suggested they had arrived in Moscow from the regions to go sightseeing. But appearances can be misleading. One of them pulled a cell phone out of her pocket and answered a call, saying: "I have already sent a freight train from Moscow to Perm and will send one to Yekaterinburg shortly." Turns out she had a job in Moscow, and one involving a considerable degree of responsibility, despite her young age. She was a logistics manager, which requires substantial knowledge of Russia's regional specifics.
This woman is just one example of how Russia has recovered from the 2008-2009 financial crisis. The country has recovered more successfully, in fact, than in the leading industrial nations. Russia's jobless rate was 6.1 percent in June 2011, compared to 8.3 percent in June 2009. In the Eurozone, unemployment stood at 9.4 percent in June 2009, before rising to 9.9 percent in June 2011. In France, for instance, unemployment rose from 9.5 percent to 9.7 percent of the economically active population.
The example of the young logistics manager can be taken as evidence that increased workforce mobility is the driving force behind the marked improvement in Russia's employment rate in the aftermath of the crisis.
According to the state statistics agency Rosstat, employment in Russia is improving because jobs are being created in Moscow. At the beginning of 2008, before the crisis hit Russia, Rosstat noted an increase in interregional workforce migration. According to employment studies, there were 1.6 million people working outside their native regions. In 2009, following a general decrease in demand for labor and massive job cuts, domestic workforce migration shrank to a yearly average of 1.4 million, before expanding again in 2010. In January and February 2010, it stood at 1.5 million people (or 2.4 percent of Russia's employed population), the number of those moving for work began rising in March, reaching 2.3 million, or 3.3 percent of the employed population, by December. On average, 1.8 million people, or 2.6 percent of the employed population, worked outside their native regions in 2010.
Moscow, the Tyumen and Moscow Regions, St. Petersburg, and the Krasnodar Territory were the leaders in employing Russian citizens from different regions at the beginning of 2011. Moscow and St. Petersburg, as federal cities, are distinct from their surrounding regions. Half of Moscow's domestic guest workers are employed in construction, retail, and transportation. Out of the workers migrating to the Tyumen Region, 46.4 percent are employed in extraction of natural resources and around 27 percent in construction. In the Moscow Region, around a third of domestic guest workers are employed in construction, and 17 percent in retail. Some 73 percent of outsiders working in St. Petersburg come from the surrounding Leningrad Region; around 56 percent of them work in construction, retail, and transportation.
Moscow has traditionally made a fairly large contribution to Russia's employment levels by attracting workers from other regions. Poet and writer Ivan Belousov, a Moscow resident, reminisced about the practices of the past: "Apprentices were brought to Moscow from neighboring districts and provinces. Each geographical area had its special trades or crafts. For instance, Tver supplied apprentices to shoemakers; some people from Yaroslavl also became shoemakers but most of them pursued tavern keeping or small trades; Ryazan supplied tailors and hat-makers, while Vladimir was a source of carpenters and joiners."
I I was too shy to ask where the two young women I met in the street came from.
All rights reserved by Rossiyskaya Gazeta.