Could a verdict cause a gas war?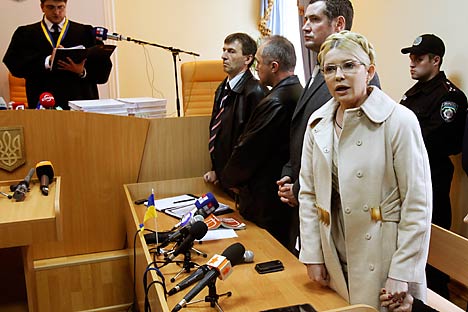 Ukrainian ex-prime minister Yulia Tymoshenko speaks during a session at the Pecherskiy district court in front of judge Rodion Kireyev in Kiev October 11, 2011. Source: Reuters / Vostock Photo
The leaders of Russia, the EU, and the U.S. have reacted negatively to the prison sentence handed to former Ukrainian Prime Minister Yulia Tymoshenko, suspecting there were ulterior motives behind it, but there are many potential motives.
A trial court in Kiev has found Yulia Tymoshenko guilty of overstepping her authority as Ukraine's prime minister in 2009 by signing gas supply contracts with Moscow – to put it simply, for agreeing to pay inflated prices. The court sentenced Tymoshenko to seven years in prison, banned her from holding public office for three years, and fined her 1.5 billion hryvnia (around $190 million) payable to the state energy company Naftogaz.
Soon after the verdict was issued, Russian Foreign Minister Sergei Lavrov called Tymoshenko's case highly politicized. "We cannot accept that a legitimate contract that remains in force and which has never been legally challenged may be cause for a court ruling like today's," said Russia's top diplomat. An official statement from the Russian Foreign Ministry said that Yulia Tymoshenko's conviction carries "obvious anti-Russian overtones." According to the newspaper "Kommersant," it was Russian President Dmitry Medvedev who ordered the Foreign Ministry to issue a harsh rebuke to the verdict.
"Calling into question the whole complex of arrangements is dangerous and counterproductive," said Prime Minister Vladimir Putin, who was the person who in 2009 discussed and came to an agreement with Tymoshenko on the terms for gas supply and transit.
As a key negotiator, Putin was surprised: "I don't quite understand why she was sentenced to seven years," he said. "Tymoshenko did not sign anything; the gas contracts between Russia and Ukraine were signed in January 2009 at the level of economic entities – by Gazprom and NJSC Naftogaz of Ukraine, in full accordance with the laws of Russia, Ukraine, and international regulations."
While Tymoshenko's defense cited more or less the same arguments, Judge Rodion Kireev found them unconvincing. According to him, it was proven that the prime minister was personally responsible for approving the gas contracts with Russia that inflicted damage on Ukraine.
A short history of gas wars
Russia pumps 100 billion cubic meters of gas annually to Europe via Ukrainian territory.
After the collapse of the Soviet Union in 1991, Ukraine received Russian gas for its own consumption at a reduced price. Still, by 1993 it had run up a large debt. In response to Moscow's threat to close the valves, Kiev threatened to cut gas transit to Europe. Although the debt kept mounting, Russia abstained from taking extreme measures for political reasons. Moreover, it let Ukraine pay a reduced price of $50 per thousand cubic meters.
Ukraine's 2004 Orange Revolution established the country's policy as pro-Western, which caused difficulty in Russian-Ukrainian relations. Ukraine started demanding higher transit fees while Russia insisted on higher prices for gas consumed by Ukraine. Negotiations remained deadlocked at the end of 2005, and on Jan. 1, 2006, Gazprom cut off supplies while continuing exports through Ukraine and accusing Kiev of siphoning off gas off illegally. Three days later, a compromise five-year contract was signed. But exactly three years later, gas supplies to Ukraine and onward to Europe were suspended for almost two weeks as more debts accumulated and irreconcilable differences over prices re-emerged.
On Jan. 19, 2009, after prolonged negotiations, new contracts were signed that contained for the first time a clear gas price calculation formula, and supply resumed. Those were the agreements for which Tymoshenko was convicted. But the agreements remain in force.
The focus in Europe and the U.S. has been on the legal and humanitarian implications of the case. Maja Kocijancic, spokesperson for EU foreign policy chief Catherine Ashton said: "The EU is very disappointed with the verdict" and that the court "did not meet the international standards for a just, transparent, and independent judicial procedure." A statement from Ashton said that the EU might review its policy towards Ukraine. There is no doubt as to which direction this policy review would go. Victoria Nuland, a spokeswoman for U.S. State Department, called the conviction of Yulia Tymoshenko a "politically motivated prosecution" that "raises serious concern about the Ukrainian government's commitment to democracy and the law."
Although it would make sense to assume that Ukrainian President Viktor Yanukovych initiated a criminal prosecution against his longtime rival for political reasons, he may have another goal in mind – to drive down the price of Russian gas and increase the rate for its transit to Europe.
Kiev is apparently gearing up for a new phase of "gas war" with Moscow, and the Tymoshenko verdict could become both the justification and its main weapon. The logic in Kiev seems to be: "The deal is illegal and so it needs to be canceled." Moscow has already said it won't budge on the gas contracts. Therefore the conflict is unlikely to end peacefully.
Whatever the outcome of this potential battle, neither its participants nor third parties (primarily European countries) stand to benefit from it, as was the case before.
Ukraine suffered its first major setback before the battle even began. After the "wrongful and non-transparent" verdict, its progress towards Europe will clearly slow for a long time to come.
Vladimir Babkin is a former deputy editor-in-chief of Russian daily "Izvestia".
All rights reserved by Rossiyskaya Gazeta.