KIT finance returns from the dead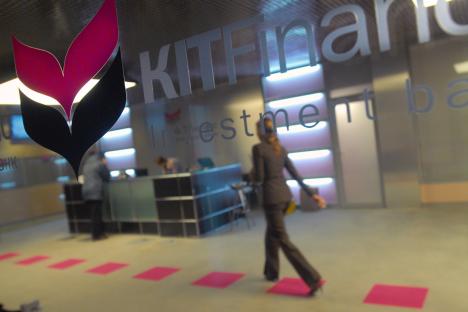 KIT grew rapidly in the early 2000s, but since surviving the financial crisis has opted to narrow its focus. Source: ITAR-TASS
The St. Petersburg investment bank was almost a casualty of the global financial crisis, but instead used the scare to find a new niche financing SMEs.
It was a close call. Two days after Lehman Brothers filed for Chapter 11 on Sept. 15, 2008, the financial tsunami broke on Russian shores and the up-and-coming commercial bank KIT Finance collapsed. Bankers held their breath waiting to see if the bankruptcy would spark a repeat of 1998, when the entire top tier of the Russian banking sector was wiped out in a few days. It didn't happen. Within hours, asset management company Leader, owned by Gazfond, the pension fund of Gazprom, stepped in and said it would acquire a controlling stake in KIT. Leader's offer to bail out KIT stopped the fear from spreading at the crucial juncture, but eventually it was state-owned Russian Railways (RZD) that bailed the bank out with loans backed by the Russian Deposit Insurance Agency. Fast forward to 2011: While Europe is again facing calls to recapitalize its banks in anticipation of a Greek sovereign default, which the markets seem to assume is now inevitable, KIT is not only back on its feet but is flourishing. Andrei Degtyarev, the bank's new C.E.O., says that by October it will have paid back all its bailout loans — three years ahead of schedule. The bank ran up a total of 60 billion rubles ($1.8 billion) in bailout loans, but it went into the crisis with significant stakes in state-owned diamond monopolist Alrosa and VTB Bank's retail arm VTB24, part of which it sold in August for about 20 billion rubles ($617 million). According to Degtyev, the plan is to sell the remaining stakes this October, which should clear the bank's debts completely. "The plan is to pay off our debts by the end of the year, as the debt terms prevent us from doing some types of business," Degtyarev said, sitting in the bank's modest but modern offices in the heart of Moscow. "Then we have a growth strategy to 2014 after which, who knows? Maybe we will sell the bank. After we pay off our loans, then the bank will be a more interesting prospect."New strategy for new timesAfter a nasty two years, Russian banks are bouncing back. According to the Central Bank of Russia, retail loans for the sector were up 19 percent in August year-on-year and there was also a sharp acceleration of corporate lending, up 13 percent, both of which are underpinning Russia's relatively robust economic growth.
KIT's history is a whale of a tale
KIT Finance (which is Russian for whale) was typical of the Russian banks that flourished in the boom years just after 2000. Founded in St. Petersburg, KIT moved to Moscow in 2003 and began to grow rapidly, launching business after business. The company started an online brokerage for day traders, tied up with Holland's Fortis to offer international funds to Russian retail investors, and rolled out a mortgage operation. There were even plans for a $1 billion I.P.O. in 2008, which would have made KIT the first private Russian bank to list on an international exchange. But in 2008, the bank collapsed. Thanks to a bailout from a Russian Railways lender, it survived, but is now a completely different operation.
Today, KIT looks very different than it did before 2008, when the firm was expanding rapidly into many different types of banking services. Now it has been shorn of all its businesses except the
private and corporate banking functions, and sold off its large St. Petersburg branch network to concentrate on servicing the needs of small- and medium-sized enterprises (SMEs). "We don't plan to go back to the retail business. Now we concentrate on complicated deals for medium-sized companies: things like project finance, M&A deals and loans. If we are involved in a management or leveraged buyout, then sometimes we take a stake in the most interesting deals," said Degtyarev. "KIT is now somewhere between a corporate and an investment bank." Degtyarev believes the niche is an obvious one, since Russia's
investment banking business is increasingly dominated by a few giants. As a result, Russia's legions of fast-growing middleweight companies are struggling to find investment banking services. "The big banks won't work with SMEs because the risks are higher and that limits the number of deals you can do," said
Degtyarev. "But that's our advantage: We do fewer deals, but we have excellent risk management and get very close to the deal — taking seats on the board, for example — to control these risks properly."
All rights reserved by Rossiyskaya Gazeta.