A tribute to APJ Abdul Kalam, former President of India and founder of the JV "BrahMos Aerospace"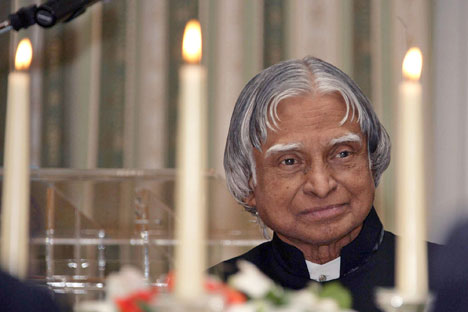 Former President of India and founder of the Brahmos Aerospace joint venture, Abdul Kalam, turned 80 on October 15.
Dr. Kalam is known as the "father of the Indian missile program", having established a number of centres for the research of missile technology and commissioned numerous defence systems.
It is Dr. Kalam who is responsible for developing and putting into operation the Agni and Prithvi missiles and, together with the Ministry of Atomic Energy, for conducting the tests that made India a nuclear power. He also acted as the impetus for defence research and development and the implementation of coordinated defence projects such as the development of light combat aircraft.
Dr. Kalam organised collaborative R&D projects with a number of Russian organisations. In particular, as head of the Defence Research and Development Organisation (DRDO), he initiated the creation of BrahMos. In September 1993 the Indian government, under the initiative of Dr. Kalam, contacted the chairman of the State Committee for Defense Industry with a proposal (memorandum) to create a joint venture with NPO Mashinostroyenia for the development and sale of guided anti-ship missiles to member-states, as well as third-party countries.
In August 1994 negotiations took place in India to establish the joint venture, during which Dr. Kalam and Gerbert Yefremov signed an agreement of intent and a working protocol. In February 1998 an agreement was signed between the two governments to develop, manufacture and sell anti-ship missiles. It was Dr. Kalam who signed on the part of the Indian government. The creation of the joint venture marked the dawn of a new era in Indian and Russian cooperation. And it is from here that the close personal and professional relations between Abdul Kalam and NPO Mashinostroyenia began.
The first launch of the BrahMos cruise missile was on June 12, 2001, and it was a complete success.
On July 25, 2002, Dr Kalam became the President of India. While in office, he continued to pay great attention to the Russo-Indian friendship, in particular to the BrahMos project, which in many ways contributed to its successful development.
Over the years the project has fully justified the hopes that were pinned on it. All technical targets that were set for the BrahMos cruise missile at the time of the project's creation have been met or surpassed. And we can now see the mass production and delivery of BrahMos missiles for the Army and Navy of the Republic of India. Experts from both countries are engaged in promising work to adapt the BrahMos missile for use on aircraft carriers and submarines.
Based on materials of the Moscow Centre for Analysis of World Arms Trade.
All rights reserved by Rossiyskaya Gazeta.