About the supreme mission of Vladimir Putin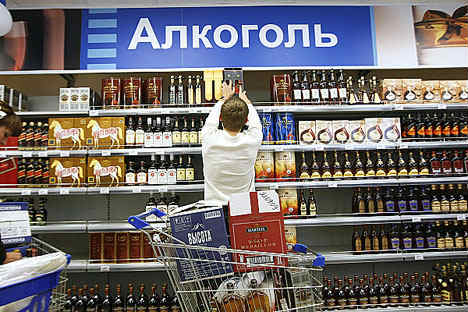 Without setting tens of millions of Russians free from alcohol addiction, Russia has no future
Vladimir Putin's decision to return to the presidential post after 12 years in power has sparked a widescale public reaction in the country and abroad. Dmitry Medvedev has been the biggest advocate of the decision, citing the prime minister's higher ratings. There is no doubt that, unless something unpredictable happens, Putin will assume presidency for another six years starting in May 2012.
The biggest question is: why? The motives of the elite are understandable – they have adapted, and believe that "if it's not broke, there's no need to fix it." But why does Putin need to be the responsible person for the entire country? Even if the economy is doing well, ignoring the factor of psychological fatigue of the voters is impossible. People are getting tired of seeing the same leaders time and time again, even if they are objectively successful.
The reason is simply because we live in a time when everything around us is quickly changing: TV models, cars, mobile phones and the internet. Even a slow computer could be a cause of aggravation. Of course, it works 10 times faster than 10 years ago, but slower than it could today. A paradox. It's hard to find the words to explain it. But everyone understands. People need change, progress, new faces and new heroes. Incidentally, it's not a fact that Dmitry Medvedev would be perceived as "young blood" for the next six years. He has been at the very top of the power structure for a long time. People have grown accustomed to him.
So what is the reason for the return? What is the hero's supreme mission, as Stanislavsky liked to ask? Could Putin's supreme mission be uncovered in the captivity of ratings, albeit rapidly changing?
One would assume that the reason for Putin's return can be found in his mission. What is Putin's mission? To increase the mileage of paved roads? To build a couple more streams in addition to the Nord and South? To make sure Russia hosts the Summer Olympics or the Rugby World Cup?
There is no newness to these goals. It seems that Putin's mission should deal with solving some fundamental, qualitative problem in Russia – a problem of historic proportions, part of a global challenge. This problem is, certainly, the problem of drinking and alcoholism in the Russian population.
Total annual alcohol consumption in Russia equals 18 liters of pure spirits (according to the WHO experts, 8 liters of per capita ethanol consumption a year indicates a nation's decline). According to WHO data, alcohol-related health problems are the reason for 750,000 premature and preventable deaths in Russia each year (Pskov regional population). That is roughly 30 percent of all male deaths and 15 percent of female deaths in Russia.
Our country has one of the top rates of divorce in the world – the main reason for which is alcoholism: 39 percent of men and 50 percent of women believe that alcohol abuse could destroy their marriage.
Russia ranks first in the world for the number of abandoned children and children without parental care. The most common reason for child neglect and deprivation of parenting rights is alcoholism.
The suicide rate in Russia has, in recent years, stably remained in second place among more than 200 countries (about 30 incidents per 100,000 people). About half of all people committing suicide do so while intoxicated.
According to the Ministry of Interior, about 80 percent of homicides are committed in an intoxicated state. Half of all victims are also intoxicated when killed. The homicide rate in Russia is the highest in Europe – 18 cases per 100,000 people.
Fifty-seven percent of the population believes that alcoholism and drug addiction are the country's main threat. And 47 percent believe that alcoholism and drug abuse among adolescents is the main problem children face today.
In most cases, saving people from drunkenness and alcoholism will mean returning to these people a reason to exist – giving them back their sense of identity, citizenship, being a subject of politics, and not only preserving but increasing the Russian population.
Unless Putin formulates a mission of a similar scale, then it could, with utmost confidence, be predicted that he will face turbulence, fatigue, frustration, lack of understanding, and suspicion for the next six years. In short, it could happen just as it always does. As a popular American saying goes: the services provided are not worth a dime.
All rights reserved by Rossiyskaya Gazeta.