Getting the Congressional Russian Caucus off the ground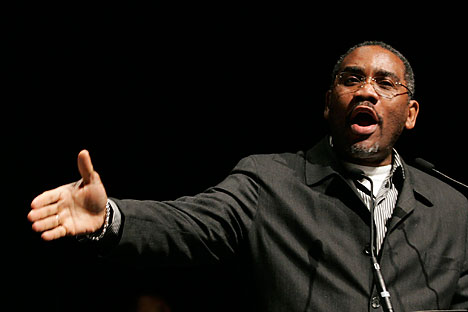 U.S. Rep. Gregory Meeks (Democrat-NY). Source: Reuters / Vostock Photo
Since the Republican Party took over the U.S. House of Representatives almost a year ago, cooperation between American lawmakers and their Russian counterparts has stagnated. Capitol Hill proponents of proactive U.S.-Russian relations have put forward the idea of creating the Congressional Russia Caucus (CRC). The Caucus, focusing on trade and economic relations, will include both Democrats and Republicans. The bipartisan group said it will start working no later than November. Alexander Gasyuk, Washington, DC correspondent for Rossisyskaya Gazeta, spoke to the founder of this initiative, ranking member of the House Committee on Foreign Affairs, U.S. Rep. Gregory Meeks (Democrat-NY), for Russia Beyond the Headlines.
RBTH: What was the idea behind this Caucus and who is going to participate?
Gregory Meeks: My thought was that when you look the United States and Russia, there is great opportunity for us to do business together and understand one another. As for the participants, it will be both Democrats and Republicans. I already have Dan Burton, who is a ranking member of the House committee on Foreign Affairs and the leading Republican in this committee responsible for Europe and Eurasia. Congressman Burton has agreed to co-chair this caucus with me. What we are looking to do is to develop relationships with our various counterparts in Russia. Also I look forward to facilitating business-to-business contacts, and possibly I am looking to lead trade missions of U.S. companies over to Russia and vice-versa. We look at our economies and there is a growing opportunity for us to do much more trading together. We have indicated that we would love to get Russia into the WTO [World Trade Organization].
RBTH: What would be the first steps of the Russia caucus?
GM: My hope is to try to connect various members of Congress. We will be sending letters inviting people to join, but we want this caucus up and running no later than November.
RBTH: Why are there fewer Congressional delegations visiting Russia nowadays?
GM: Unfortunately, we are still stuck in a post-Cold war mentality - I am talking about many individuals in the U.S. Congress and Russian Duma - and we have to free ourselves from that and look at the new world we're living in. And that is where we begin an understanding of one another that we have not had before. The "reset" idea the President Barack Obama has put forward is a good thing, and no matter who wins our elections – as you know both countries have elections coming up – those of us who will be in Congress working with those in the Duma have to forge ahead. I look at the accomplishments that the two nations have made in agreements as a result of "reset." Now it's time to get this to the next level.
RBTH: What do the White House and State Department think of your idea to establish the Congressional Russian Caucus?
GM: I spoke to both, and the State Department welcomed the idea as did the White House. The State Department likes trade and diplomacy. Of course, we have differences, but I would rather focus on what we can agree upon.
RBTH: Do you have any feedback from the American business community?
GM: American business people indicated that this is absolutely the right thing to do. They are very enthusiastic, and some have asked already to become participants in meeting and discussions of the caucus. For instance, the U.S.-Russia business Council and U.S.-Russia chamber of commerce expressed their interest in getting involved in this process.
All rights reserved by Rossiyskaya Gazeta.