Dmitry Medvedev: Lower vote threshold to boost political competition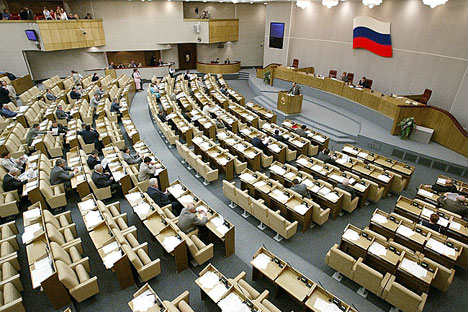 Source: Rossiyskaya gazeta
Today Russian President Dmitry Medvedev signed the bill on lowering the vote threshold to the State Duma from the required 7% to 5%.
He explained this measure by the necessity to boost competition between parties, saying that smaller parties that can't overcome the barrier of 7% would still have a chance to be presented at the Duma, having got 3% or 5% votes.
On June 24 President Medvedev proposed the bill for considering at the lower chamber of the Russian Parliament – State Duma. Having been passed at the State Duma on October 7, it was approved and signed by the upper chamber – Federation Council on October 12.
Medvedev also said that in future the electoral threshold might even be lowered to 3%. He also expressed an opinion that there is a possibility of the system of electing governors being re-introduced.
At the same time Dmitry Medvedev doesn't criticize the decision to raise the vote threshold to 7% taken by Vladimir Putin during his presidency in 2005. Medvedev believes it was a justified position then because it allowed improving the structure of political forces in Russia. Having hundreds of parties in a country means that its political system is not mature enough, Russian President explained.
At the moment the parties falling behind by 1% to 2% still have a chance to be presented at the State Duma: the parties that got 5% to 6% votes are given one seat in the Russian Parliament and those having got 6% to 7% votes have two seats. But representatives of those parties are deprived of many powers, which are given only to the parties having 7% votes or more, such as becoming members of Parliamentary factions, running for leading positions, putting forward proposals on shaping the agenda.
The new law will enter into force from January 1, 2013, which is why it will not be applied at the nearest election that is to take place on December 4, 2011. There are different reactions both to the new law entering into force and to the time of its entering into force.
Representatives of some parties like "Patriots of Russia" expressed regret about the delay in the law's entering into force and support cancellation of the vote threshold altogether to give all the officially registered parties a chance to win Parliament seats.
The "Yabloko" party believes that even a 5% vote threshold is too high for the Russian voting system at the moment and it should be reduced to 3%.
Russian Liberal Democrats voiced a view that the initiative to lower the vote threshold to 5% is good news because it will open new opportunities for parties by allowing for new participants in the pre-election competition.
All rights reserved by Rossiyskaya Gazeta.