Kings of the Dance kick-start tour in Moscow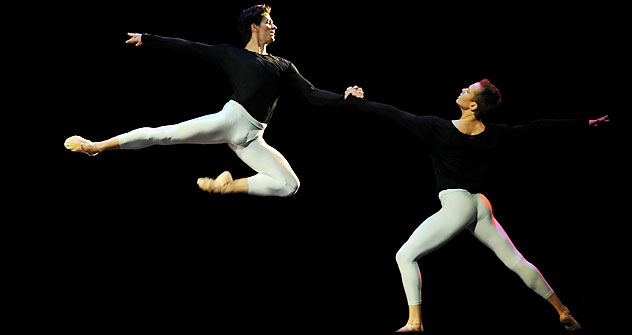 The Russian-U.S. ballet project Kings of the Dance, which five years ago revolutionized ballet, is back in Moscow with new dancers and a new program.
Kings of the Dance, an all-male ballet performance featuring four of the world's leading dancers, was launched in 2006 with four premières staged at the world's leading theaters. The project's long life is due not just to its all-star cast but also to the effective concept, which consists of an original ballet for all the performers and solos for each dancer. In 2009, the original Kings stepped down, and the new group mastered the core program and used the solos to demonstrate their own personal achievements. The third version of the project is now relying not on new names but on a strong repertoire made up almost entirely of world premières.
Unlike previous programs, a level playing field was ensured for all dancers this time. Mauro Bigonzetti staged the common ballet performance, and Marcelo Gomes prepared the final piece for the project's six male dancers, who come from different parts of the world. The main part of the program consists of six solos, with each dancer allowed to select a choreographer of his choice.
The choreographers include Nacho Duato, Marco Goecke, Edward Clug, and Patrick de Bana - all famous names, although they have produced very different experiences.
Marcelo Gomes replaced American choreographer David Parsons, who dropped out when preparing a solo for Leonid Sarafanov from St. Petersburg's Mikhailovsky Theater. Gomes staged a ballet highlighting not just Sarafanov's unique physique, but also his flawless classical technique and clear spirit. The other dancers, all dressed in black tights with naked torsos, captivated spectators with endlessly rippling arms and bodies, symbolizing existential torments. With David Hallberg, it was all abstraction and beauty, offset by Denis Matviyenko's nervous and jittery performance, while Guillaume Cote was sculpturesque and touching in Bach's "Chaconne," and Ivan Vasilyev stunned the audience with his extreme tricks. Yet all the difference was only due to the dancers' diverse physiques.
Unlike his colleagues, Finnish choreographer Jorma Elo did not focus on his dancer's physique. On the contrary, he dressed Marcelo Gomes in white and had him move to the adagio movement from Joseph Haydn's "Military" Symphony. This was a real challenge for the Brazilian-born dancer as flawless muscle work is not his strong point, but Elo effectively combined long and short postures, long balances in arabesques, slow and fast pirouettes into a unique performance, a kind of story about a ballet prince's life: pleasant, heavy and sometimes absurd.
Thus, the image of the Kings, which underwent a serious trial in the first hour and a half of the performance, was finally restored in the last 10 minutes, raising hopes that Marcelo Gomes and his Finnish choreographer might be the rising stars of the project's fourth stage.
All rights reserved by Rossiyskaya Gazeta.