Russian carrier rocket lifts off from Kourou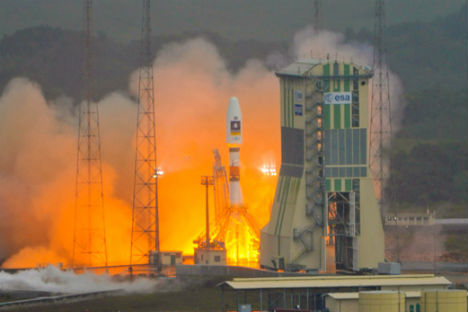 Russian carrier rocket lifts off from Kourou. Source: AP
A Russian Soyuz-ST carrier rocket was launched on Friday for the first time from the Kourou launch site in French Guiana.
The Soyuz-ST is a modification of the three-stage Soyuz-2 rocket with a Fregat booster adapted for launch in the conditions prevalent in Kourou where there is high heat and humidity.
The rocket is carrying two Galileo navigation system satellites and is fitted with a radar transponder allowing its location to be monitored and controlled in flight.
"The satellites and the Fregat booster have separated from the carrier rocket at the designated time," a spokesman for the European Space Agency said.
"The separation of the satellites from the Fregat booster is expected at 6.19 p.m. Moscow time [14:19 GMT]," the official added.
The satellites on board will be deployed as part of the European Galileo navigation system. At present, two test satellites launched in 2005 and 2008 are working in orbit.
When the Galileo system is complete, it will have up to 30 satellites, six more than in the US GPS system. Galileo is expected to enter limited service in 2014 and be fully operational by 2020 when 27 satellites will be in orbit.
The Galileo developers claim that the system will be more precise than its competitors – U.S. GPS, Russian Glonass, and China's prospective Compass navigation systems - and create new economic opportunities for Europe with potential revenues of up to $125 bln over the next two decades.
Meanwhile, the ESA is planning to launch another Soyuz-ST carrier rocket from Kourou in December to orbit six satellites, including dual-purpose Pleiades earth observation satellite
All rights reserved by Rossiyskaya Gazeta.