Should Russia legalize guns?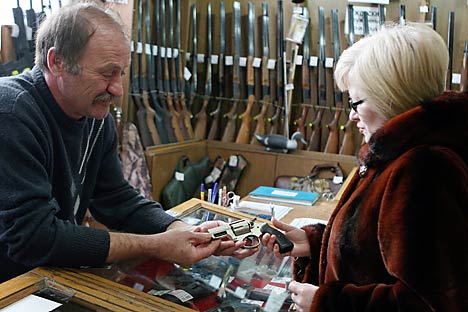 Polls show that most Russians are against liberalizing gun laws, but proponents are gearing up for a long fight.
Over the past eight years, the number of proponents of legalizing firearms in Russia has shrunk by 12 percent, while the number of supporters of a universal ban on carrying firearms has, conversely, increased by almost 14 percent.
These figures are part of a recent poll conducted among 2,000 Internet users in Russia. Although Russia's Internet audience can hardly represent the country's entire population, some conclusions can still be drawn. Compared to 2003, the number of supporters of a law permitting the sale of firearms shrank from 54 percent to 42 percent, with almost a third of poll participants believing that no weapons at all, including non-lethal ones, should be available to the general public (up from 13 percent in 2003). The remaining respondents were not particularly bloodthirsty either, with 41 percent of poll participants favoring traumatic and gas pistols over other firearms, and 29 percent more opting for single-shot short-barreled rifles.
Sporting or hunting guns can be sold to any Russian over the age of 18, provided that the future owner has obtained a special permit issued by a local interior office. Assault weapons are not legally available.
The issue of whether or not to permit people to carry firearms has been a hot topic lately. Following every major criminal attack, Senator Alexander Torshin, one of the most fervent champions of the right to carry firearms, always calls the public's attention to his proposal to permit firearms ownership. His initiative, however, calls for reclassifying non-lethal weapons as firearms and toughening punishment for the trafficking of non-lethal weapons.
Indeed, the spread of non-lethal weapons has seriously damaged the positions of legal arms trade proponents - not so much the spread itself, as the uproar over its use. The most notorious case was the death of football fan Yegor Sviridov, who was killed by a traumatic pistol, triggering riots among football fans on Moscow's Manege Square last year. Criminal news reports often mention how some overexcited men shot each other to death with non-lethal weapons.
No wonder the Interior Ministry has begun contemplating restrictions on the use of non-lethal weapons, while Duma deputy and Security Committee member Alexander Gurov even went so far as to call for a total ban on such pistols.
If you look at the statistics, however, it is easy to see that everything is relative. Over the past five years, some 70 people were shot to death and 600 more were injured from non-lethal weapons in Russia. At present, the annual rough estimate of 20,000 murders certainly plays down the significance of the share of deaths caused by non-lethal weapons.
Meanwhile, supporters of a ban on carrying firearms are not convinced. Lawyer Anatoly Kucherena is positive that Russia is not yet ready to legaliae firearms. "If we permit gun ownership, we will end up with a lot more fatal accidents on our hands, since it is human nature that a man tends to display certain bravado when he has a weapon in his hands and loses control of himself in stressful environments, which, incidentally, can be deliberately created," he said. It is particularly dangerous to permit people to carry firearms in public places, which, in his opinion, should remain the exclusive authority of law enforcement representatives in charge of maintaining order and protecting ordinary citizens.
This, however, does not mean that the self-arming movement has few followers in Russia. A new interregional public organization of supporters for the legalization of firearms is about to be formed in the near future, with its core built from the audience of the website Vooruzhen.ru. According to their leader Maria Butina, the idea to establish such an organization emerged just a couple of months ago, and they are now pushing for registration to grant the organization an official status.
According to Butina, even at this point, the movement has brought together quite a number of people: It has active branches in 16 of Russia's regions. Its members are mostly successful accomplished men with a stable income and, as a rule, experience with weapons; they tend to own a traumatic pistol or a hunting gun. They are mostly driven to join the organization by a desire to protect themselves. Their key argument is that issuing permits to buy and carry weapons will dramatically slash the number of violent offences. Given that criminals obtain their weapons illegally, a law-abiding person must have a legal opportunity to defend himself.
Clearly, such a law is unlikely to be adopted any time soon. Therefore, the proponents of the legalization of weapons are gearing up for a long-time effort to publicize their ideas, and are ready to take part in roundtable discussions and other public events. They even have a large-scale event spanning all of Russia planned for mid-autumn – protests in large cities and a rally in Moscow at which the organization's members will voice their demand for legalizing firearms.
All in all, Russians have so far registered some 5.8 million guns of various types, with traumatic weapons accounting for a 10th of that number. According to the Interior Ministry, there has been a steady increase in the number of people owning firearms, including growth of five to six percent per year in Moscow alone.
All rights reserved by Rossiyskaya Gazeta.