iPhone 4S: moving ahead with GLONASS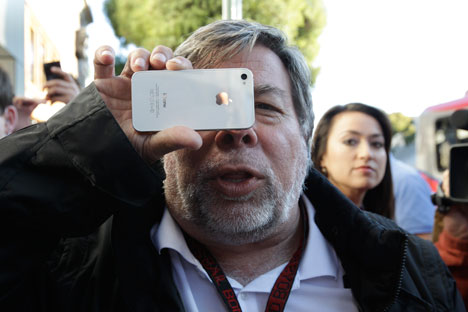 Steve Wozniak belives in GLONASS. Source: AP
The latest Apple iPhone model will enable its owners for the first time to receive directions from two global navigation systems – GPS and GLONASS
Apple is the first cellphone manufacturer outside Russia that has started using Russian GLONASS satellite navigation system in addition to American GPS previously used for location finding.
Experts believe that applying a two-signal receiver would make the system more reliable and accurate. Nikolai Testoyedov, head of the NPO-PM company, GLONASS satellites manufacturer, says that the GLONASS/GPS twin system receivers' ability to capture data from twice as many satellites will ensure fail-proof precision location especially in the zones where signals from some satellites may be blocked by terrain.
After the launch of the last of 24 satellites required for covering 100 per cent of the earth territory, GLONASS will achieve global coverage in the next few months.
At the moment there are different speculations on possible grounds for Apple's decision to start using GLONASS along with GPS. It may be a part of the company's preparing to launch the new model in the Russian market.
On the other hand, the reason for this step may be the intention to enhance the location finding capacities of the system because while GPS is believed to have a broader range of coverage there are areas on the north of the Earthwhere GLONASS is believed to give more precise navigation.
Also, according to Qualcomm, American global designer and manufacturer of digital wireless telecommunications products and services, GLONASS improves the accuracy of GPS performance in urban environments by 50 percent.
Under a 2007 accord, Russia will provide India with access to the military segment of the GLONASS system, which is expected to be beneficial for the Indian military as the accuracy of India's land, sea, air and space-launched weapon systems is to improve. India and Russia also signed an agreement for joint production of GLONASS/GPS receivers and other navigational equipment in India.
All rights reserved by Rossiyskaya Gazeta.