Boosting tourism in Russia: building hotels and breaking stereotypes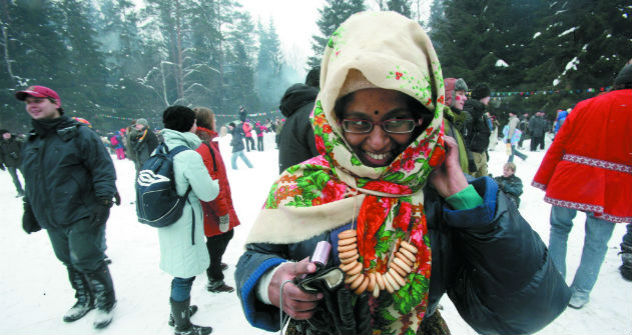 Will climb every mountain:Russian winter is not as cold and scary as it is often painted. It's not easy to frighten Indians. Source: Photoxpress
Indians don't feel like travelling to the land of eternal cold and communism but they are eager to breathe in the atmosphere of history in the Russian Golden Ring cities, enjoy the Moscow Circus performances, admire raising bridges in Saint Petersburg or marvel at the astonishing beauty of the Baikal Lake.
Indo-Russian tourism cooperation has registered a surge, driven by a slew of important initiatives. Last December, during President Dmitry Medvedev's visit to India an agreement to ease visa requirements for students, business people and tourists was signed. In October this year, the Russian Parliament ratified a bilateral visa simplification pact. The same can be said about Indian initiatives, with Indian ambassador Ajai Malhotra introducing new rules according to which tourist visas to India will be processed within three business days and will be valid for six months for three or multiple entries. During the recent visit of Indian Minister for Tourism Subodh Kant Sahai to Russia, a decision was taken to hold an Indian-Russian Tourism Forum, and organise regular tourist road shows in both countries.
But the difference in tourist flows is striking: compared to 120,000 Russians travelling to India every year, there are only 50,000 Indian visitors to Russia per year, and tourists make just 5,000 of that number. This is a challenge for the Russian tourism market.


The Iron Curtain was destroyed a long time ago, and since that time Russia has become a much favoured tourism destination but still some of the stereotypes prevail due to the insufficient amount of information from reliable sources. For example, Russia is still regarded by some Indians as a land of never-ending cold, with empty shops and long queues. Some of this may be true, for instance the climate can be harsh at times with huge amounts of snow and below zero temperatures but then again for some visitors it is a unique and joyful experience. As to many other popular beliefs about Russia, most of them are easily shattered at the moment of arriving in the country and getting the first hand experience of what it's like. Tourism companies focusing on the Russian market often complain of misconceptions about this country presenting an obstacle for the tourism development.
"In tourism business it is crucial for a country to learn to present itself as a tourism destination", Reghunathan Pillai, the president of the Indian tourism company DR Tours and Services, assures me. "Spreading information on what a country has to offer and breaking the stereotypes are key factors for attracting and maintaining a steady inflow of visitors".
Moscow. Source: Geophoto
So lack of trustworthy information on Russian historical monuments and cultural legacy added with misguided ideas about costs and safety of travelling leads to Indians having second thoughts about making this country their destination of preference. The numbers of Russians who have visited India in 2011 are almost three times as high as those of Indians who have travelled to Russia, 120,000 people compared to 50,000 respectively. One of the reasons for this, Mr Pillai believes, is that Russia isn't promoted abroad the way it should be whereas the Indian Embassy in Russia makes sure to create a lot of number of opportunities for people wishing to visit India to find answers to their questions about travelling to this country. There are also a lot of art exhibitions, concerts and other cultural events arranged by various Indian organisations in Russia, where everyone can get a glimpse, a feel or even a taste of Indian culture by looking at pictures of places of interest, listening to the sound of tabla or sarangi or trying a gulab jamun with masala tea generously offered at such occasions. Thus Russians wishing to visit India don't have a fear of venturing onto the unknown territory, and India becomes closer and more enticing to them.
Yana Khrustovskaya, General Director of Russian INCOTUR tourism company, thinks a complicated and expensive procedure of obtaining Russian visas is another impediment for developing the Russian tourism market. She says the process of getting Russian visas in India is monopolized and doesn't allow for new participants. "There is only one tourism company in Delhi, Salvia Tours, with the exclusive right to accept documents for the Russian Consulate", Yana Khrustovskaya says, "although competition between host agencies could lead to reducing prices and consequently make Russia a more appealing destination".
}
Saint-Petersburg. Source: ITAR-TASS
Reducing the amount of time required to obtain the Indian visa from 14 days to 3 days led to a surge in the number of Russian visitors to India. Simplifying the process of getting Russian visas for Indians could have the same effect on the Russian tourism market.
One of the problems that Russian tourism companies frequently come across with while organizing tours for Indian groups is a small number of Indian eateries in Russian cities. Reghunathan Pillai remarks that the idea of opening his own chain of Indian restaurants in Russia proved very helpful because in contrast to many others they don't have to worry about providing their tourists with food they are used to. "Of course, we suggest that our guests have a taste of Russian cuisine once or twice while they are here", he says, "but most people still prefer to stick to familiar food". Yana Khrustovskaya agrees on the point remarking that the deficit of Indian eateries in Moscow, Saint-Petersburg and especially in smaller cities and towns puts the few available restaurants tin an advantageous position and leads to the prices skyrocketing compared to the food chains offering Russian and European cuisine.
Despite common stereotypes, crime rate does not frighten Indian tourists as much as they are believed to. True, tourism companies emphasize the need to take warm clothes or warn visitors to be careful and beware of pickpockets. But still safety isn't such a big issue for travelling in Russia. "It's not so easy to frighten Indians", Mr Pillai says with a smile. "Once they set their foot somewhere they are very comfortable with exploring new places and new opportunities".
Baikal lake
But one of the things visitors need to know before setting their foot in Russia is that they will be able to find appropriate accommodation there. With a growing number of middle class Indians travelling with families every year as well as numerous business conventions being held at the hotels, there is a growing need for building a better infrastructure. At the moment there is a severe shortage of comfortable hotels at reasonable prices even in Moscow not to mention far off locations such as Siberia or the Altai mountains.
Speaking of travelling off the beaten path, mountain climbing in the Altai Mountains is becoming more popular among Indian lovers of extreme tourism, as well as visiting the Baikal Lake within the frames of ecotourism even in spite of its location away from the mainstream tourism destinations.
The requests to visit those places are not so frequent yet, Mr Pillai says. But still Indians express their desire to stray off the main tourism destinations and explore unfamiliar routes. In a country with a vast historical legacy and amazing natural landscapes that can easily contest with Swiss Alps, the prospects for tourism development are very inspiring, and the restraints that hold it back can be overcome with time.
All rights reserved by Rossiyskaya Gazeta.