Gaddafi killed, but experts say war in Libya will continue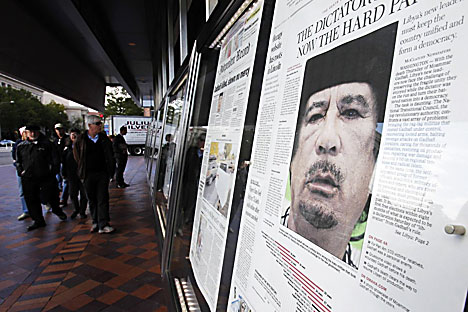 Source: Reuters / Vostock Photo
Despite Gaddafi's many flaws, he was capable of holding together a nation made up of disparate tribes. How they will behave after his death is anyone's guess.
The circumstances surrounding the death of former Libyan leader Colonel Muammar Gaddafi are still being clarified. According to some sources, the vehicle in which the colonel was trying to escape Sirte came under fire from the air as the city was being taken by troops of the National Transitional Council of Libya (NTC). In other words, he was destroyed by NATO forces. Other sources claim that Gaddafi was hiding in a hole where he was shot in both legs and eventually captured by NTC soldiers. The wounds proved to be fatal.
However it happened, Muammar Gaddafi is dead, and his death has been officially confirmed.
Russian President Dmitry Medvedev called the capture of the former Libyan leader "great news." The president's special representative for cooperation with African states, Mikhail Margelov, was even more unequivocal in his assessment of the incident:
"This monster, this demonic Colonel, after launching air strikes on peaceful citizens, has lost the moral right to be called the leader of his country," Margelov said. "Whether or not his body will be brought before cameras is of little concern. For us, the main thing is clear: in recent months, Gaddafi was fighting the inevitable. The single coordinated position of the international community was that there is no place for Gaddafi in the new Libya."
However, Ruslan Pukhov, director of the Moscow Center for Analysis of Strategies and Technologies, is somewhat skeptical about the prospects for the new Libya.
"Libya has very little chance of surviving as a unified state," Pukhov said. "Colonel Gaddafi, despite his outward extravagance and strange behavior, managed to build around himself a more than capable alliance of tribes that has now disintegrated."
According to Pukhov, the National Transitional Council will not be able to hold power in Libya for long:
"The only thing that held this strange alliance of Gaddafi supporters-turned-renegades, Islamic fundamentalists and ordinary criminals, was the figure of a common enemy, Muammar Gaddafi," Pukhov said. "Now, the criminals will be sent back to the bottom of the social order, former supporters of Gaddafi will be forced out of power and, more than likely, will be hanged, and Islamists with direct links to Al-Qaeda will seize power."
Sergei Seregichev, expert at the Institute of Middle East, agrees:
"The assassination of Gaddafi means the death of a united Libya," he said. After all, only he could hold together the regions of Cyrenaica, Tripolitania and Fezzan. The NTC is a can of worms – it cannot survive without Western support."
In the meantime, this support may be problematic following the death of Gaddafi; it will now be extremely difficult for NATO leaders to explain to their voters why they should send money and arms to Libya. But Seregichev is convinced that they will have to:
"We must remember that not all the Gaddafi family has been destroyed," Seregichev emphasized. "There are still his sons, loyal generals and, most importantly, Gaddafi's money – which is yet to be found. Now these funds will be used to organize a civil war in Libya and, almost certainly, to organize a campaign of terror in Europe and the United States."
Libyan terrorists might not be able to get to the United States, but they can certainly get to Western Europe, which is separated from Libya by a narrow strip of the Mediterranean Sea. There is not likely to be a shortage of people wanting to avenge Gaddafi, even if it costs them their life – especially now, after the colonel's heroic death was shown practically live on television.
By provoking a revolution that has overthrown the regime of Muammar Qaddafi in Libya, Western countries have created another Afghanistan – a hotbed of anarchy, instability and terrorism.
All rights reserved by Rossiyskaya Gazeta.