Russian fish flows to Asia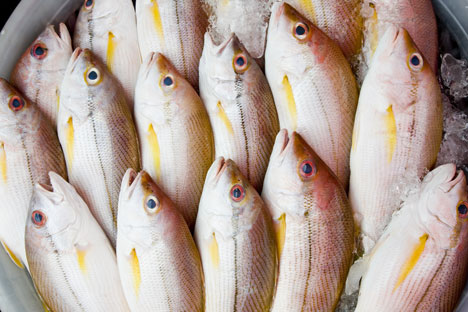 Increased Russian fish exports to Asia should be managed by the state more efficiently, experts say. Or else, loss of profit on foreign market will lead to a surge in prices on domestic market.
Exports of fish and seafood from the Primorye Region rose by nearly 5% in the first nine months of 2011, with South Korea and China remaining the major buyers, according to the Primorye office of the Federal State Statistics Service. Fishery companies link this to the lack of sustainable demand on the Russian market, which makes selling entire catches of fish domestically unprofitable. "This comes down to the culinary tastes of Russians. We are not ready to consume as much fish as Asian nations," said Konstantin Kodolev, commercial director of Dalryba.
Exports of fish and seafood by companies in the Primorye Region amounted to $522.6 million in January-September 2011, up 4.9% from the same period last year. In physical terms, that's 364,600 tonnes (up by 8.7%). In the total export commodity structure, first place was taken by fresh and frozen fish (65%), followed by caviar, liver and milt (17%), crustaceans (9%), fish fillet (5%) and fish meal (4%).
The region's statistics indicate that Primorye fish and seafood is shipped to 15 CIS and foreign countries, with the bulk of the exports going to South Korea (31%), China (29%), Japan (11%) and Panama (8%).
Market participants are also aware of the fact that Asian-Pacific countries are bulk buyers who purchase in large quantities, including raw material for further processing. "Chinese processors go on to resell our fish to us or to European countries as semi-finished products," said a businessman who wished to remain anonymous. "Naturally, those products cost more," he added.
Market participants are, however, positive that efficient exports are a good asset for the mid-term. "Norway exports over 600,000 tonnes of fish products a year, which generates $2.1 billion. Russia exports twice as much for a mere $3.7 billion. India exports as much as Russia, but earns $4.5 billion," said Russian Pollock Association President German Zverev, citing figures to illustrate his point. In his opinion, a modern fishing industry means the expert distribution of sales across several markets, including domestic and foreign export markets.
According to experts, the general export focus of Russian fisheries has been, among other things, on consistently raising domestic prices for fish and seafood. "If they maintain stable domestic prices, fisheries would have to content themselves with lower profits per unit. Obviously, in such circumstances they will raise prices," Vostok-Invest General Director Alexander Gandzhin said. "Satisfying the domestic market with inexpensive fish products seems to be more of a political task. If the government is interested, it has to create the right conditions. But that's not business," the expert concluded.
All rights reserved by Rossiyskaya Gazeta.