Welcoming foreign capital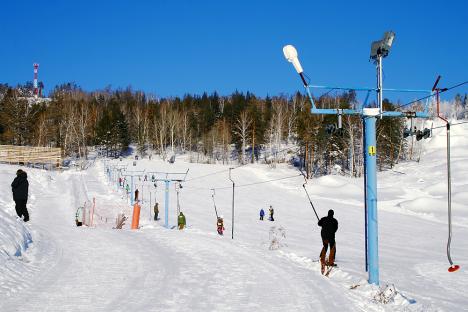 People on vacation enjoy the ski resort outside the city of Miass. Source: Lori / Legion media
A new governor wants to attract foreigners to the Chelyabinsk region.
Cold weather - which regularly dips below -30 degrees in winter - is not the only reason foreigners have remained cautious about investing in the Chelyabinsk region. The new governor, Mikhail Yurevich, is trying to change that.

The 42-year-old businessman, named "Man of the Year" at the tender age of 28 for the organization of industrial production in Chelyabinsk, was appointed governor by President Dmitry Medvedev last year. Yurevich recently launched a start-up office for foreign investors in the capital. It provides assistance to newcomers to Chelyabinsk, offering anything from the provision of interpreters to help with registering documents. Local authorities also provide tax credits during the early stages of investment and help select land and industrial sites with ready infrastructure.

To date, 55 projects have been supported by the regional Ministry of Economic Development. Not all of them are focused on manufacturing.

One Italian company decided to invest $118 million in the modernization of a ski resort near the city of Miass, a two-hour drive from Chelyabinsk. It is one of seven ski resorts operating successfully in the Southern Urals.

A number of powerful food holdings have been created with the help of foreign investment in the Southern Urals; local pasta and buckwheat is exported all over the world.

Breaking Down Barriers

Nonetheless, few foreigners have heard of Chelyabinsk. To tackle the problem, local authorities created a new position: deputy governor for invesment projects. Yurevich appointed 39-year-old Alexei Ovakimyan, who had previously run a successful consulting company, to the post.

"It became clear after meetings with foreign investors that they had never heard of Chelyabinsk before," Ovakimyan said. "For many of them, Russia is still associated primarily with Moscow and St. Petersburg. But this is a completely misguided point of view."

Globalization

The capital of the Southern Urals, Chelyabinsk, is a city with more than one million inhabitants. It is situated more than 1,000 miles east of Moscow on the slope of the Ural Mountains, near the border between Europe and Asia, and recently celebrated its 275th anniversary. In Soviet times, Chelyabinsk was a closed city filled with factories for the production of steel products, weapons and agricultural machinery.

The area was also home to some of the most hi-tech laboratories for the production of nuclear weapons.

"It's hard to imagine now, but in the 1990s there was only one hotel in the city where foreigners could stay," said Dwight Bohm, general director of Metran between 2004 and 2010.

Things have changed since 1992. People have begun to travel abroad regularly for holidays, business, study and professional exchange.

The town now has an international airport, supermarkets, health spas, restaurants, internet cafes, shops. Chelyabinsk has over a dozen internationally competitive hotels, the latest newcomer being Holiday Inn.

Authorities are currently scrambling to develop the city's infrastructure in time for the European Judo Championships, which will be held in Chelyabinsk for the first time in 2012.

Investing in People

With a shortage of funds in the regional budget, Yurevich is convinced that foreign investment is the key to further development. New jobs will create demand for investing in education.

That is why Yurevich is particularly proud of the agreement reached during his United States visit with the Washington, D.C.-based American Councils on Education for International Education. The deal will provide internship opportunities for students of Chelyabinsk State University at leading American companies.
All rights reserved by Rossiyskaya Gazeta.