Georgia agrees: Russia can join the WTO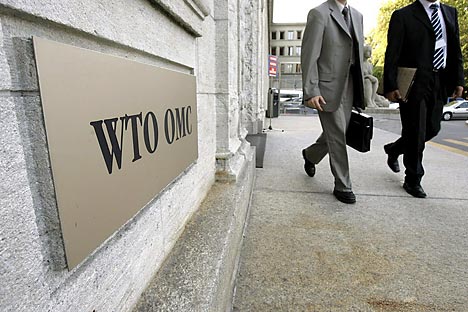 Though Russia stressed it is no longer interested in joining the WTO at any cost, now it's very likely to happen. Source: AP
Georgia has agreed to a compromise on monitoring trade between South Ossetia, Abkhazia and Russia, but Moscow still has to sign off.
Georgia, the last country to oppose Russia's accession to the WTO, has compromised by agreeing to a joint monitoring of trade on the borders with South Ossetia and Abkhazia. The deal came as a result of Georgia's consultations with the European Union and Switzerland. Georgia previously offered to agree to Russia's accession in exchange for concessions from the Kremlin, but Moscow has so far rejected such "compromises" out of hand. This time, the chief Russian negotiator on WTO accession, Maxim Medvedkov, merely said "it would take several days" to give an answer. Georgia, for its part, has indicated that this was the last and final compromise it would accept. "Actually, the game is over," said Georgian Deputy Foreign Minister Sergi Kapanadze, explaining that the ball was now in Russia's court. Russia's final answer is expected next week.
The substance of the new Georgian proposal has not been disclosed. Yet, according to Kommersant, the main difference between this deal and previous ones is the status of Abkhazia and South Ossetia in trade matters. So far, Georgia has insisted that trade between these regions and Russia be legally considered trade with Georgia. Moscow, which, recognises these two territories as independent countries, does not agree. According to Kommersant, Georgia has proposed joint monitoring of trade operations on the borders with Abkhazia and South Ossetia.
Georgia is the last state to oppose Russia's accession to the WTO. Because of Tbilisi's position, Russia remains the biggest economy in the world that is not a member of the WTO. Moscow has been negotiating its accession to the World Trade Organization for more than 18 years, longer than any other country.
According to the World Bank, the economic effect of entry for Russia will be 3.3 perecent of the annual GDP over the next several years -- approximately $53 billion dollars. In the longer term, the gain may exceed $150 billion.
During the last month, however, Russia has stressed several times that it is no longer interested in joining the WTO at any cost. Prime Minister Vladimir Putin said in October: "Without Russia, the WTO cannot be said to be a really universal organization. It has managed without us and will continue to do so. But we are still a country that today produces and sells more oil than any other and it would be better if we were a member of the organisation."
For his part, President Dmitry Medvedev said: "We have no business in the WTO. I am joking of course, but still…"
This article is based on information from Kommersnat, Newsru.com, Rosbalt, Vedomosti, RBC.ru, Voice of Russia and Finmarket.
All rights reserved by Rossiyskaya Gazeta.