Missile defense, asteroids and deadlock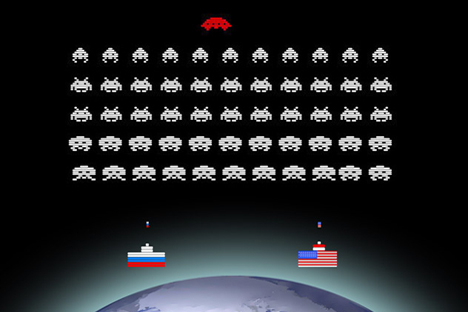 Russia and the United States have a chance to resolve their deadlock over missile defence – Moscow has offered to construct a common shield against asteroids.
Russian Ambassador to NATO Dmitry Rogozin has proposed creating a joint U.S.-Russia missile defense system, which in addition to its defense capabilities, would also protect the Earth against asteroids. The recent unexpected proposal could help the two countries break a vicious cycle.

The project is code-named Strategic Defense of the Earth. It has been introduced to President Dmitry Medvedev who called it "interesting." The president tasked Rogozin and foreign policy advisor Sergei Prikhodko with finalizing the project.


Aside from this proposal, the Russian-U.S. standoff over missile defense is looking increasingly like a never-ending saga.
In 2001, shortly after withdrawing from the 1972 Anti-Ballistic Missle Treaty, the George W. Bush administration announced plans to deploy interceptor missiles in Poland and a radar defense system in the Czech Republic, which Moscow saw as a threat to its strategic security. Now, 10 years later, international experts admit that negotiations on missile defense have reached an impasse.


Although President Barack Obama has changed tactics and shelved the plans for Poland and the Czech Republic, Washington has not abandoned the idea of a European-American missile defense system.

According to the Pentagon's Missile Defense Agency, the new American missile defense system, the Euro-ABM, will be built in four stages. The first stage involves deploying interceptor missile ships to the Mediterranean Sea, which has already been done, and constructing a radar system in Southern Europe. The second phase envisages installing new SM-3 interceptor missiles in Romania by 2015. Washington and Bucharest signed an agreement on this on Sept. 13.

The third phase would deploy SM-3 interceptor missiles to Poland by 2018, and by 2020, phase four would replace those with even more powerful interceptor missiles capable of defending the entire territory of NATO member states against all types of ballistic missile threats, including intercontinental ones.

Needless to say, Moscow has strongly opposed these plans. Earlier this month, Russia said it was beginning to prepare a military response to Washington's actions. The rebuttal to the European missile shield will be Russia's newest tactical ballistic missile system, the Iskander M, which will be deployed to the city of Luga in the Leningrad Region outside St. Petersburg.

After Michael McFaul, President Obama's nominee to become the next U.S. Ambassador to Russia, refused to provide legal guarantees that the Euro-ABM system is not aimed at Russia, Moscow announced the deployment of its first brigades fully equipped with Iskander guided-missile systems capable of carrying nuclear weapons.

The Americans have repeatedly stressed their willingness to provide the requested guarantees, including in written form, but not as legally binding documents. In mid-October, Missile Defense Agency Director Patrick O'Reilly invited Russian observers to take part in flight tests for the interceptors that will be deployed in Europe. Russia responded by proposing a common anti-asteroid shield. Now it's NATO's turn to react.
All rights reserved by Rossiyskaya Gazeta.