The Earth's seven billionth resident was born in Russia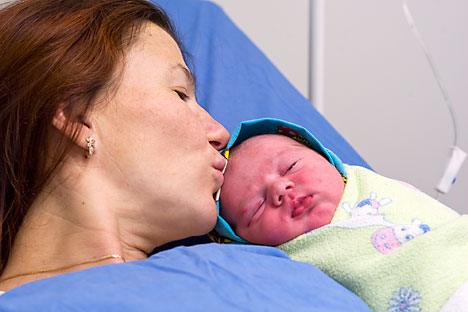 Peter Nikolayev from Kaliningrad became the 7 billionth human. Source: ITAR-TASS
The number of people on Earth has reached 7 billion. The child who opened the new demographic era was born in Russia.
Peter Nikolayev, the 7 billionth human was born at 12.02 am local time on Oct. 31, 2011 in Russia's westernmost region, the exclave of Kaliningrad. The exact date of birth was entered in the register of the regional maternity center by doctors and UN observers along with the newborn's height (19.6 in) and weight (6.7 lbs).

"We didn't plan it that way," said happy father Alexei Nikolayev. "I used to think that the Earth's population was already 7 billion or more. My wife told me that, when the likely place of birth of such a child was announced, future moms in her ward were joking and even arguing about it."

The newborn's parents will be issued a "Born on 7 Billion Day" certificate. The cautious wording of the document is not accidental. Peter's claim to the title of 7 billionth child has been disputed. India, China and the Leningrad Region have also laid claim to the 7 billionth child.

The authorities in Petropavlovsk-Kamchatsky even trumpeted to the whole world that the watershed event had occurred several hours earlier, at the opposite end of Russia.

"On the night of Oct. 31 at 12.19 am local time, a boy by the name of Alexander Bogdanov was born at Maternity Home 1 in Petropavlovsk-Kamchatsky. The baby weighs 3,600 kilograms (7.9 lbs)," the local news offices report with baited
breath. "The certificate of the 7 billionth citizen of Earth was presented to the newborn's mother, Marina Bogdanova. Later, when the child is registered, the parents will be given a voucher for an apartment in a house currently under construction in Petropavlovsk-Kamchatsky."

Even though the demographic milestone is open to challenge, Kaliningrad's case looks more solid: After all, UN observers had come there to register the birth of Peter Nikolayev.

Like his Kamchatka rival, the little citizen of Kaliningrad will get his share of attention from the region's authorities.

"Of course I will take time out to congratulate the parents and the baby," said regional Governor Nikolai Tsukanov. "For some reason, I was sure that the jubilee baby would be a girl. But it's great that it is a boy. Considering that Peter is the Nikolayevs' third child, in addition to the federal benefits they are entitled to, the family will get 100,000 rubles ($3,300) from the local budget and a free plot of land for building a house."
All rights reserved by Rossiyskaya Gazeta.