Students are major players in U.S.-Russia reset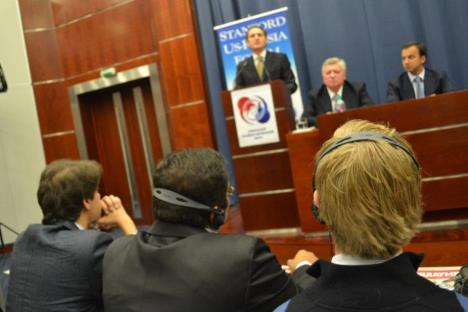 Sergey Naryshkin, the head of Russia's Presidential Administration, is taking the floor before the participants of the SURF conference/Source: Pavel Koshkin
The recent Stanford U.S.-Russia Forum indicates that the "reset" between two countries is in full swing.
The buffoonish leader of the Yabloko party took the floor in a session of the Russian State Duma and began severely criticizing United Russia, LDPR and the Communist Party. After the critique, the body adopted a Yabloko-sponsored bill, while one from United Russia failed to pass its final reading. This wasn't a scene from a film script, but it wasn't a movie either. It was a role-playing game called State Duma simulation, conducted as part of the Stanford U.S.-Russia Forum (SURF).
Since 2008, SURF has been sponsoring semi-annual educational exchanges, bringing together 20 American students and 20 Russian students from elite universities for meetings in Moscow in the fall, and Stanford in the spring. This year's Moscow session took place from Oct. 18-22.
The SURF funding
SURF is an affiliate of the Center on Democracy, Development and the Rule of Law at Stanford University and the New Dialogue Foundation established in Moscow by one of the SURF Co-Founders, David Zokhrabyan, in May 2010. The foundation won the State Club grant in August 2011 to implement the SURF 2011-2012 Exchange Program. Basically, the funding comes from Stanford University and its Russian counterparts - Moscow State Institute of International Relations (MGIMO-University), the National Research University, the Higher School of Economics, and the Academy of National Economy.
The Stanford U.S.-Russia Forum began as an attempt to establish closer ties between the two countries. Two American students, Sam Stone and Anda Gansca, were Stanford students who were participating in an exchange program at the Academy of National Economy in Moscow when they came up with the idea of occasional meetings with their Russian friends David Zokhrabyan and Vladislav Malashenko, who were the leaders of the Political Club in the Department of International Affairs of Moscow State University.
By chance, SURF was established few months before the official start of the "reset" and fortunately found itself in the right place in the right time.
"Autumn 2008 was a hard time for U.S.-Russia relations because of the Russo-Georgian War of August 2008 and a number of other contradictions," said Zokhrabyan in an interview. "And students decided to contribute to overcoming the mistrust between countries by organizing a conference which brought together Russian and American students and experts."
"The conference in November 2008 went fairly well, and students decided to keep cooperating," Zokhrabyan said. "It was a start-up project and we did not have much experience. But we were very enthusiastic and designed a plan for an exchange program for Russian and American students. The first recruitment was held at Stanford and in Moscow in September-October 2009. Afterwards, a series of virtual seminars was organized during November-December 2009."
The forum's main goals are to work towards the reset of U.S.-Russia relations, and encouraging partnerships in fields ranging from politics and economics to nuclear energy and security. The students conduct collaborative research on these problems, which must involve Russians and Americans as well as an advisor. The groups are expected to come up with a research paper and a set of recommendations that will strengthen the Russia-American partnership. The results will be presented during SURF's spring session, at Stanford, and then published in the SURF journal.
"SURF has a unique spirit and character," said Zokhrabyan. "It is not just another educational project but a community of like-minded talents – open, smart, communicative. SURF graduates work in governmental bodies and leading international companies such as Bain & Company, Bank of America Merrill Lynch, UBS, Google. Generally, SURF sees its mission as creating a network of American and Russian leaders, and thus decreasing the possibility of confrontation between the countries in future."
Land of opportunity
Zokhrabyan pointed out that previous SURF conferences allowed students the opportunity to have contact with Russian presidential adviser Arkady Dvorkovich and former U.S. Secretary of State Condoleezza Rice. This year, the list of experts is made up of prominent pundits like Alexei Arbatov and Dmitri Trenin (Carnegie Moscow Center), Viktor Kremenyuk (Institute for the US and Canadian Studies at Russian Academy of Science), Elena Panfilova (Transparency International), Bernard Sucher (Venture for America) and Robert Pszczel (NATO).
"It was really fruitful," said Airat Bagaitdinov, a forum participant and a student at the Higher School of Economics. "I personally got acquainted with influential analysts and had the chance to discuss with them a lot of thorny issues that Russia and the U.S. are faced with. Additionally, together with our American counterparts, we came up with ideas to work on during the next six months. I hope it will be productive as well."
In addition to roundtable discussions with experts, the latest SURF conference also included a visit to Russia's State Duma, where participants talked with United Russia Deputy Svetlana Khorkina and got an up-close look at the problems facing the Russian parliament.
"The SURF delegates were informed in advance that, currently, some deputies may not be available because they were extremely busy before upcoming parliamentary elections," said participant Kira Tverskaya after the Duma visit. "Of course, we were not allowed to take pictures there because it might embarrass some of deputies. When we got into the hall, we were pretty surprised because only about 20 percent of deputies attended the session, where they were supposed to discuss an annual budget plan."
The visit informed the next day's activity – the Duma simulation.
All rights reserved by Rossiyskaya Gazeta.