Russian Film Week held in New York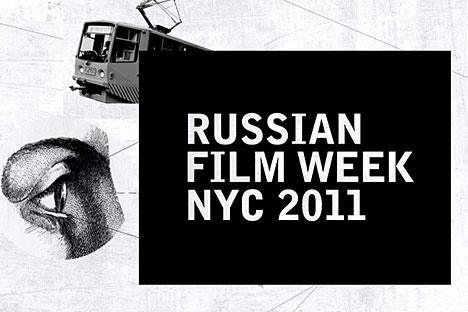 Source: Press Service of the Russian Film Week in NYT
Highly-acclaimed and emerging Russian film-makers strut their stuff in the city of New York.
"Was that a happy ending?" moderator and well-known journalist Vladimir Pozner asked director Slava Ross after the New York screening of his film, "Siberia Monamour." The film opened the eleventh annual Russian Film Week last week [Oct. 28-Nov. 5], which featured twelve feature-length films from some of Russia's most provocative and talented directors.
"Yes," Ross responded in English. Pozner, putting on a kind of Everyman persona, continued. "Was that a happy film?" he added, sounding genuinely puzzled. Ross continued to explain that "Yes, it is a happy movie, it is a movie full of love."
Most viewers might hesitate before describing "Siberia Monamour" as happy. It is, however, a breathtaking work, haunted and exhausting, challenging and bleak, with outstanding cinematography, belonging to a canon of Russian art-house film.
Ross's film is more a meditation on redemption than joy. Bitterness does give way to compassion. But it takes work, even on the part of the audience, to get there. There are scenes of such impoverishment, hardscrabble foolhardiness, debasement and outrageous bad luck that some viewers in New York needed to turn away from the screen from time to time. Yet many scenes were infused with a rollicking humor and, thank God, unexpected mercies.
A proud and religious grandfather (Pyotr Zaichenko, whom Russian film fans will remember from Pavel Lungin's "Taxi Blues") refuses to move into town with his grandson; instead he lives in an abandoned village with feral dogs that eat what traverses their turf. The dogs clearly represent some larger decay. Nearby, a soldier (a stunning performance by Nikolay Kozak) who has survived two tours in the Caucasus is tasked with luring a teen prostitute (Sonya Ross) from town to a lonely Siberian base. Also lurking are prisoners who have escaped a local prison camp and are fixated on raiding villages for icons. All of the characters will face each other before the end.
"Siberia Monamour" was made on a budget of 3.5 million over a decade, and the screenplay was written in the Cannes Residence program. The crew was filming in Siberia when the financial crisis hit in 2008. Only 20 of the crew of 60 stayed on to finish the scenes, according to Ross. The film has been making the festival circuit and received a thumbs-up review from Hollywood Reporter. But the film will not get beyond the festivals, according to Ross—which begs the question, can it be a powerful film if no one sees it?
Other films in the festival include "My Father is Baryshnikov," a highly praised, somewhat biographical work by director Dmitry Povolotsky, which the film trade magazine Variety compared to "Billy Elliott" and "Goodbye Lenin"; "Indifference," by Oleg Flyangolts; and "Once Upon a Time There Lived a Simple Woman," by the acclaimed auteur Andrei Smirnov, among other films.
Irina Pavlova, renowned film critic and program director of the Moscow film festival, said that many of these films will definitely be seen in Russia. "In larger cities they are released in theaters. Smaller towns and rural areas typically gain access to them through the Internet. There is a buzz preceding an anticipated art-house project – people share their impressions on social networks and recommend certain films."
The films screened at this year's Russian Film Week in New York are currently in theaters in Russia, she said. "The films are mostly matinees and late night showings, which have become hip with Russia's trendy and progressive audience," Pavlova said. Andrei Smirnov's "There Once Lived a Simple Woman," is currently in wide release by Russian standards (400 theaters for the opening) and has been attracting a wider audience, she said. "We thought no one would see it outside of college students and professors," Pavlova said.
Director Ross said that alternative film is supported in Russia. "I was very surprised to find there is financial, government support for art-house film in Russia," Ross said at the screening. "But there are not enough venues to show these films," he added.
"Siberia Monamour" was incredibly well received by the New York audience. But when moderator Vladimir Pozner asked him if the film could be a hit in Russia, the director answered in one word: "No."
"We have a small distribution in Russia. It's an independent film and we spent all our money," he said, adding that there are 50 copies of the film in distribution. "You make a film like this because you can't not make it."
All rights reserved by Rossiyskaya Gazeta.