Indian boost for Russian pharma market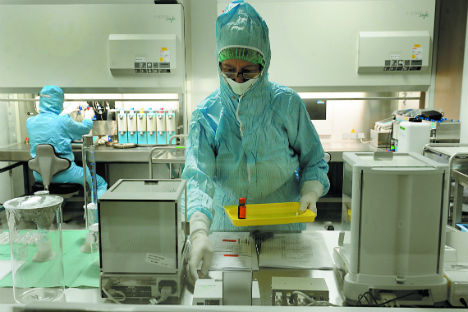 DPAPICUTRE ALLIANCE/Vostok-Photo
Indian pharma companies are set to grow bigger in the Russian market, says B.P. Singh, an Indian businessman.
Over the years, pharmaceuticals have emerged as an important pillar of the burgeoning Indo-Russian partnership. India is the third largest drugs exporter to Russia. "Gone are the times, when Indian medicines were mistrusted and considered inferior in quality compared to American or European ones," says B P Singh, general director of the CORAL-MED pharmaceutical company. "Now, Indian drugs are firmly established in the Russian market. They are also quite popular in many other markets, thanks to their good quality and low prices – five or six times lower than the prices of the Western countries produced medications," he says. The prices for Indian medicines are expected to plummet even more due to the growing number of factories and intensifying competition.
Dr. Singh, general director of
the CORAL-MED
In Russia, according to Dr. Singh, a Peoples' Friendship University of Russia (PFUR) graduate majoring in linguistics, who has lived in the country since his student days, there are at least 10 to 15 good Indian pharma factories. He recalls his happy student years at the PFUR and the first steps in the pharmaceutical business with warmth. Helping boost Russia's pharma industry would be a good way of paying back for free quality education he got there, he says. Russia produces only 20% to 25% drugs while the export of medicines amounts to 70%, which explains high prices for a good many drugs in the Russian market. Building factories and investing in indigenous drug production hold the key, says Singh. Having built his own business from the scratch in the 1990s, when the former USSR transformed into a completely different country, Singh is not afraid of difficulties. As he puts it, when the times were tough, God helped him, and he believes if a person is honest and hard-working, he can pave his road to success.
Currently, opening a drug factory in Russia is mired in red tape. The quality control and certification system in India is very much different from that in Russia. The hardest time for a factory owner in Russia is getting the permission to open a factory. The registration can take up to two years and cost large sums of money while the company loses its potential profit. Indian factories, on the contrary, are encouraged to start their business and are spared ponderous procedures. For example, the pharma companies in India don't pay taxes for the first ten years of their functioning, and they don't have to go through complex certification procedures at the initial stage, but are routinely checked.
However, the Russian government has lately taken a slew of steps to cut down on red tape to encourage the Russian pharmaceutical industry. According to a senior Indian government official's statement, the good news is that India and Russia will sign a pact in December to speed up the registration of domestically made drugs in the Russian market. Indian pharmaceutical companies export drugs worth $600 million to Russia every year.
Russian companies are in talks with Indian companies to set up testing facilities and infrastructure on the Russian soil to get a bigger market share in Russia, says media reports quoting Devendra Chaudhry, joint secretary in India's ministry of chemicals and fertilizers.
Singh, who has won many awards in golf and badminton competitions as a member of Russian amateur teams, is upbeat about his business plans. Singh's company CORAL-MED plans to build a factory in Russia in collaboration with two large Indian companies in the framework of Putin's Pharma 2020 programme. The companies in question are Panacea Biotech and Lupin Ltd. According to Dr. Singh, the companies are covering all the costs and offering their technologies of production. The only thing that is needed from the Russian side is to support their initiative and land for the factory, which is not far from Moscow and not very expensive. Big Indian companies find it easier to forge tie-ups with Indian companies in Russia as they know the ropes and are familiar with the Russian mindset, which proves very helpful while producing and distributing medicines in the Russian market.
CORAL-MED's general director B.P. Singh (inset) plans to build a factory in Russia with two large Indian companies.
All rights reserved by Rossiyskaya Gazeta.