How Cossacks invaded Moscow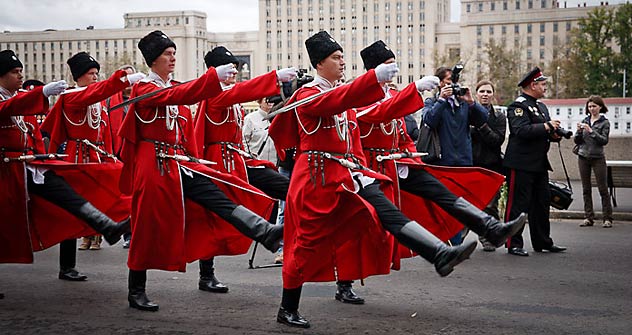 Last month Cossacks took over Gorky Park for a celebration of Cossack history and culture, called "Moscow, a Cossack Village."
Cossacks are invading Moscow during the celebration of their history and culture. Source: Ruslan Sukhushin
Overnight, a small Orthodox church surrounded by Cossack kurens (farms) appeared in the park. The farmsteads offered homemade food and crafts while three stages hosted performances of Cossack and pseudo-Cossack songs and dances, martial arts and horsemanship demonstrations.


The origin of the Cossacks is still disputed among historians, but there is no doubt that these "freemen," as they call themselves in traditional songs, were a blend of Slavs, Turkic and Caucasian peoples. The tough Cossack is epitomized by Nikolai Gogol's character Taras Bulba, who killed his own son for eloping with his mistress (kind of a Cossack Romeo and Juliet). The early Cossacks were soldiers who settled on banks of the Don and Dnieper Rivers. During the time of Ivan IV (the Terrible), Russia treated the Cossacks lands as independent states, but gradually Cossacks were absorbed into the Russian Empire and began serving it, first as mercenaries and then as regulars in the Russian army.


For more than a century before the 1917 Revolution, Cossacks were considered a kind of military elite, and a distinct military estate: All men born into that socio-cultural community were obliged to do military service. During the Russian Civil War, the Cossacks fought with the White Army against the Bolsheviks. As a result, many of them emigrated after the war ended with a Bolshevik victory. In the mid-1930s, many Cossacks who had stayed in The Soviet Union became victims of the Stalin-era purges. Some of them did rejoin the Soviet army, but their units were disbanded after World War II.
Since the fall of the Soviet Union, Cossacks have experienced a resurgence. Some of these new Cossacks are descendents of those Cossacks from the Don and Kuban areas who have been steeped in Cossack culture and brought up on its values: Russian Orthodox beliefs, patriotism, courage and fortitude.
"I don't think I have to be a member of any organization or prove anything to anyone. Our families keep this tradition alive. It is not so much the trappings as the mindset. It is bred into a person," said Yakov Ivanov, a hereditary Don Cossack and leader of a Cossack song ensemble called Buzuluk.
Another group of Cossacks is made up of members of the official Cossack organizations that began springing up in Russia in the 1990s. There is a state register where anyone can sign up and become a Cossack after going through a religious initiation and some tests. Registered Cossacks are obliged to perform public service.
"The Cossack is, first and foremost, a warrior of Christ: the church is the be all and end all for him. The lifestyle, raising of children and military and patriotic work are built around it," said Sergei Balakleyev, spokesman of the "Moscow: a Cossack Village" festival and editor-in-chief of the magazine "Kazaki."
And then there are those who call themselves "Cossacks" because they love the traditional Cossack songs and participate in folklore groups, but are not necessarily Cossack by blood or registered with the state. They research the traditions and go on visits to Cossack areas. They are a bit like historical re-enactors, but instead of being tied to history, they represent a living tradition.

Today, the idea of Cossacks and Cossack culture is surprisingly popular among the broad populace. Many Russian men seeking ethnic and cultural identity turn not to the image of the peasant, whom Russian literature has often portrayed as downtrodden and disenfranchised, but to that of the free and independent Cossack. This popularity has resulted in a blend of Cossack culture with traditional culture from a range of Russian regions, and even modern popular culture. At the "Moscow: a Cossack Village" festival, Cossack folk songs were arranged and performed in a style that would have been unrecognizable to the Cossacks of the past.
All rights reserved by Rossiyskaya Gazeta.