Russian grain producer won a Guinness World Record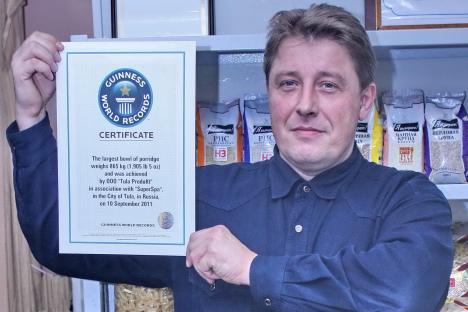 Nikolay Kostylev, deputy CEO of Tula ProduKt. Source: The press service of Tula ProduKt
The Tula ProduKt company, a Tula-based grain producer operating throughout Russia and abroad, received the official Guinness World Record Certificate in the category "The Largest Bowl of Porridge" on Oct. 21. The record itself was entered in the Guinness Book of World Records.
The now officially recognized world's largest bowl of porridge weighed 865 kg (1,905 lbs.), it was cooked in the main square of the city of Tula during the town's City Day celebration on Sept. 10. The new record exceeds the old one, set in Scotland in 2010, by 235 kg (518 lbs.)
The decision to make a bowl of porridge weighing 865 kg record was made in honor of the 865th anniversary of founding of Tula, one of Russia's oldest cities. Besides porridge, Tula is famous for its hospitality and diverse range of industries – from food production to small arms manufacturing.
The record-breaking Tula porridge was cooked in a giant pot, 1.7 meters (5.6 feet) in diameter and 0.9 meters (3 feet) deep. The pot was hung on a tripod measuring 6 meters (19 feet) tall. The pot and tripod were built specifically for this record-setting event.
As soon as the porridge was cooked, it was served, free of charge, to over 3,000 participants in the City Day celebration.
On Sept. 11, the day after the porridge was cooked, the procedure to register the record in the Guinness Book of World Records began. It was completed successfully 10 days later, and Tula ProduKt received the Guinness World Record Certificate.
"This is a wonderful conclusion to an exciting event," said Nikolay Kostylev, deputy CEO of Tula ProduKt. "We are very proud of the City of Tula and of our company."
All rights reserved by Rossiyskaya Gazeta.