First international start-up accelerator opens in Moscow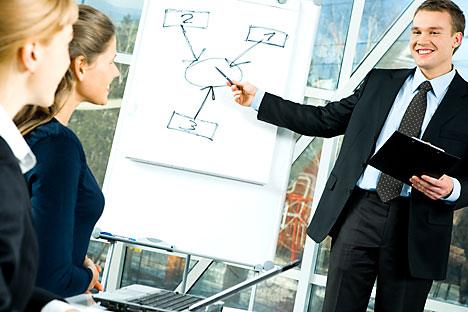 The Russian startup scene took another step towards becoming an international platform last week with the launch of TexDrive, Moscow's first international mentor-led startup accelerator program.
Among TexDrive's co-founders are startup accelerator veteran Jon Bradford from Cambridge and Andrei Kessel, a Russian-born entrepreneur and investor also living in Cambridge. Joining them is Alexander Zhurba, a Russian investment management expert, and Maxim Shekhovtsov, a prominent Russian venture capitalist in Russia.
The 12-week TexDrive accelerator program for entrepreneurs aims to "build businesses that are efficient, attractive to investors and have global ambitions" with the help of Russian and foreign experts and mentors. The accelerator promises to provide startups with international experience and connections "from over 250,000 contacts," through its office in Moscow as well as with paid or pro-bono support from a range of partners.
Project teams selected by TexDrive are exposed to a range of assistance intended to match their focus. "For instance, projects will receive a free session to review their IP strategy with specialists from Stratagem. Investment bankers will advise on raising capital internationally – complementing expertise from our own team. Eltoma Corporate Services will help companies incorporate and with international tax planning, while Fabernovel will advice on international business development," Zhurba explained.
TexDrive also provides projects with financial support – starting with a cash injection of $25,000 – in exchange for a "reasonable stake." The most promising startups will receive a second investment of $100,000 or more before being presented to angel investors, venture funds and industry players from Russia and abroad.
TexDrive backers are local wealthy individuals, entrepreneurs and investment managers experienced in early stage venture investments. "They have put money into the program itself, so TexDrive has cash to fund initial cooperation and more to invest in the best projects at the end of the program," Zhurba said.
Startup shares for tech gurus
The list of mentors includes founders and general managers at top Russian tech companies – from ABBYY and Qiwi to Softkey and Abobe Russia – not to mention prominent local and foreign fund managers and industry experts. Co-founder Kessel admitted these gurus could not devote a large amount of their time to TexDrive startups, but "their involvement will be stronger and more efficient when they are granted shares," he said.
TexDrive received its first applications from startups last week through its website. Some other projects have been brought in by mentors or come via the team's network. The accelerator's scope is large, and includes "all technology based projects with strong teams at any stage of maturity from Russia or the CIS," said Zhurba, who added that he does not expect any difficulties with sourcing.
Although TexDrive undoubtedly has a unique form and focus, it is not the only smart collective attempting to herd Russian startups over the initial hurdles into international markets. Earlier this year, leading U.S. venture funds Tomorrow Ventures and Garage Technology announced partnerships with Digital October, a Moscow incubator that will help them source projects from Russia. In mid-October, Plug and Play Tech Center, a prominent Silicon Valley incubator, got operations underway in Russia with the selection of its first five start-ups. The launch projects selected by a panel of Plug and Play judges included Toytemic, a Moscow startup offering a "natural, intuitive method for linking virtual reality to the tactile world of toys," Vite.Me, a social service connecting friends with a single button, ShopPoints, a mobile application offering rewards for visiting stores and delivering personalized special offers, Family Suite, an online service for the elderly, and Mtel, a virtual office project.
First published in East-West Digital News
All rights reserved by Rossiyskaya Gazeta.