Indo-Russian trade: great potential to fulfill by 2015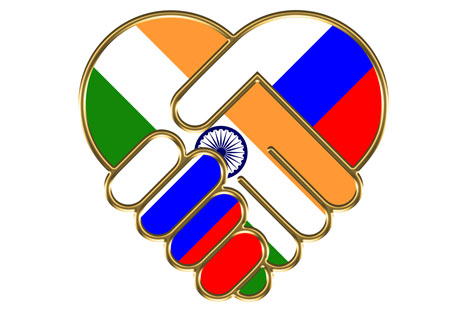 The global financial crisis doesn't stop the Indo-Russian trade in 2010 from tripling the figure for 2005. Mikhail A Rapota, head of the trade Representation of Russia in India, says in an interview to "The Financial Express", the bilateral trade is able to reach $20 billion by 2015.
What is the target set for trade between the two countries in the next five years?
Both the countries have decided to increase the bilateral trade turnover to $20 billion by 2015, which may seem quite challenging considering the current trade volumes, but positively feasible taking into account the immense untapped potential.
Have you identified any new area where both countries can cooperate for enhancing trade relations?
There are some promising projects in the pipeline. They cover both traditional and new spheres of our economic cooperation. One of the most recent undertakings is the decision of JSC "Severstal" and India's NMDC to set up a Russian-Indian joint venture — an integrated steel plant in Karnataka with the initial capacity to produce about 2 million tonne steel.
Among other things, the project provides for large supplies of coking coal from Russia to India. In oil and gas, an MoU has been inked between JSC "Gasprom" and four Indian companies — GAIL, GSPC, Petronet and IOC — for supplies of 2.5 million tonne LNG per year to each of them starting 2016. There are also vast opportunities for enhancing Russia-India trade in traditional spheres of bilateral cooperation, such as power (including nuclear), machinery and equipment, pharmaceuticals, fertilisers, mining, textile and agriculture.
Are there opportunities for cooperation in the agriculture sector?
Agri products are among the top articles in the list of Indian export to Russia. Indian companies supply tea, spices, fruits and coffee, which are in high demand in Russia. What is important here is that Indian products mostly comply with the quality standards adopted in Russia. We seek to sort out any impediments in this sector and our authorities have done a good job to promote agri-cooperation. In this regard, there are two important agreements. The first is the MoU between the Directorate of Plant Protection, Quarantine and Storage under the Ministry of Agriculture of India and the Federal Service for Veterinary and Phytosanitary Surveillance (FSVPC) of Russia relating to phytosanitary regulations for plant products. The other one, which is yet to be finalised, is on quality and phytosanitary requirements for grain and grain products between the FSVPS of Russia and Ministry of Commerce & Industry of India.
What kind of tax incentives does your country offer to foreign investors?
The Russian government pursues a policy of improving investment climate in the country, especially due to its current economic modernisation agenda. The taxation of foreign companies is more or less similar to that of Russian legal entities, but there are some differences which enhance attractiveness of doing business in Russia. For example, as regards the profit tax, a Russian legal entity has to make advance payments on a monthly basis, while foreign companies are exempt from this requirement. Local authorities can also provide exemptions from property and land taxes.
The legal framework for Special Economic Zones (SEZs) provides for broader tax and other concessions. Tax benefits vary according to the zone type. An industrial and production (I&P) zone, for example, may provide a reduction in the profit tax up to 15.5% and exemptions from property and land tax and accelerated depreciation, a customs-free regime and a guarantee against unfavourable changes in tax laws. With the aim to boost R&D activity in specific fields, foreign investors willing to work in the Skolkovo Innovation Centre close to Moscow are offered 10-year exemptions from profit tax and property tax and reduced social security contributions.
Have both the countries resolved problems related to banking?
Banks play a pivotal role in promoting trade and investment ties between Russia and India. Over a number of years, our interaction in the inter-banking sector was quite sluggish and this was a major problem for us. In the recent decade, the situation has improved.
Bank VTB, a state-controlled bank for foreign trade, and Sberbank, one of the largest banks in Russia, have opened their full-fledged operating branches in New Delhi and present a wide range of banking products for Russian and Indian customers. We hope that two other major Russian banks — Gazprombank and Promsvyazbank, which have their representative offices in India, will follow suit in the near future.
In turn, Indian banks ICICI Bank, SBI and Canara Bank are also represented in Russia by their arms and actively participate in the local financial market.
Can you give an update on the space programme with India?
Russia-India space ties have a long and fruitful history. They date back to the late 1970s when the first Indian satellites were launched from the Baikonur cosmodrome by Russian rockets. Starting from 2001, the Indian Space Research Organisation (Isro) has successfully launched its carrier rockets with the use of Russian cryogenic engines. There are good prospects of bilateral cooperation in fields like earth observation, space exploration and satellite navigation. Russian specialists have started work on developing and testing scientific instruments and land module of the lunar rover to be used in the second Indian moon mission, Chandrayan 2.
An MoU signed in March 2010 cleared the path for setting up a Russia-India joint venture to provide India with navigational civil services through the Russian GLONASS system.
These developments obviously give a strong impetus to fruitful bilateral interaction between the two countries.
All rights reserved by Rossiyskaya Gazeta.