Skolkovo holds roadshows in Silicon Valley, Munich and Vienna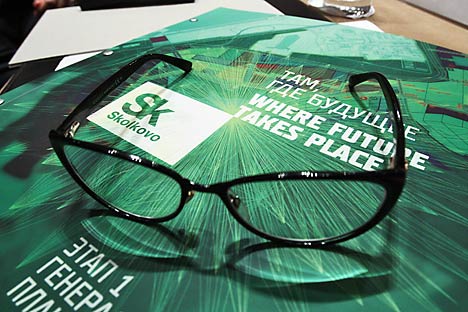 In an attempt to encourage investments in the West, the Skolkovo Foundation made several presentations in Vienna, Munich and Silicon Valley. Source: Kommersant
Skolkovo Foundation, the state-owned enterprise building an international innovation hub near Moscow, completed a series of roadshows in Western countries this fall to encourage investment in its projects.
Skolkovo is organized around five clusters – biomedical/pharmaceuticals, green energy, nuclear technology, aerospace and IT – and the roadshow presentations emphasized a selection of these areas in different regions.
The first presentation, held in Vienna on Sept. 14, focused on biomedical, energy saving technology, and IT projects. The Skolkovo delegation also discussed possible cooperation in the field of nuclear technology with the International Atomic Energy Agency, whose headquarters are located in the Austrian capital. The Skolkovo delegation visit to Vienna followed an agreement signed in July with the Austrian Ministry of Transport, Innovation and Technologies, the first ever signed by the Skolkovo Foundation with a foreign state.
The next roadshow took place from early to mid-October in California's Silicon Valley. Thirteen Skolkovo projects were presented to U.S. investors, including Greycroft Partners, Guy Kawasaki and David Cohen, as well as to potential partners such as Google, Cisco, and Facebook.
Among the 13 projects were award-winning Russian startups Speaktoit, which offers a virtual assistant, or "virtual buddy" for smartphones that can answer questions and notify users about important events; and Pirate Pay, a service that claims it can "convert torrent from a large repository of pirated content into a major distribution channel for legal digital content."
Other projects included Agent Plus, whose solutions help manage and the activities of salesmen; Bazelevs Innovation, which offers interactive 3D-visualizations of movie scripts and TV shows; and Choyster, which specializes in web search and data analysis on the Internet, search engines and social networks. Also presented were Klaudmak, a provider of 3D virtual environments for video games and training sessions as well as CyberCop, ePythia, Evanti, iBuild App, Kuznech, Rock Flow Dynamics andMDG-innovation.
Another road show took place simultaneously in Munich on Oct. 4-6. Representatives of all five clusters visited different German research institutions and considered joint projects. Among the proposals for collaboration was a bid to ensure that dual GPS+GLONASS chipsets be compatible with Galileo, the European satellite-based location system.
Skolkovo President Viktor Vekselberg also met with Bavarian Prime Minister Horst Seehofer to discuss a possible partnership.
First published in East-West Digital News

All rights reserved by Rossiyskaya Gazeta.