Running away from stereotypes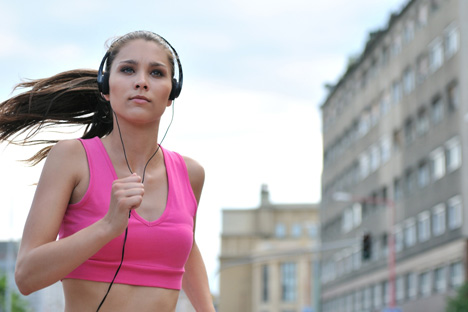 Runners are not that uncommon on the streets of Moscow. Source: PhotoXPress
After many years spent trying to dispel others' views of Russia, I put an end to some false perceptions of my own
When I lived in Moscow, I tried everything possible not to stand out. I never spoke English in public. I made sure my children had the appropriate kind of snowsuit. I even wore black stiletto boots. Although I don't look at all Slavic, I also don't look especially foreign, and I'm fairly sure that walking down a busy Moscow street, no one would have picked me out of a crowd.
And so naturally, on my first morning back in Moscow on an extended business trip, I did the most American thing imaginable: I went running. It was dark, and also early, when I headed out down the Boulevard Ring – a road I chose because I had a vague idea of the distance around it and because I knew that in some places at least there were areas reserved for pedestrians. I had been nervous starting out – more about the cold than about getting strange looks – but as I began moving, everything seemed completely natural. I ran on the dirt paths in the center of the boulevard, I ran down steps, I ran through pedestrian underpasses. Before I knew it, I was at Prechistenka, passing the Cathedral of Christ the Savior. I crossed the road and ran beside the river.
The embankment here may be the most pleasant place to run in Moscow. It is flat, there are no roads to cross, and I'm pretty sure it's possible to follow it longer than you actually want to run. And running along there, I even passed something stranger than myself – a guy fishing in the Moscow River. Then, just about the time the sun thought about rising, I saw the Kremlin. I haven't been running all that long, and so unlike the people who contribute to Runtheplanet, the only things I can claim to have seen while running are the inside of a gym and Washington National Cathedral (and that's only because I can see it from my house) so the site of the Kremlin domes along my path were especially inspiring. Slightly less inspiring was the realization a little while later that I had taken a wrong turn and couldn't avoid running past Lubyanka. I didn't think there were any laws against running, but I wasn't sure – and I wasn't carrying my documents.
Of course, I ran past the building, past many guys in uniform, with no problems. And then I was annoyed with myself for having had those thoughts at all – a similar emotion to the one I had a couple of weeks earlier when I thought long and hard before taking off on an early morning run in Central Park because of all the stories I had heard about joggers being attacked.
After that Central Park run, I found those tales much harder to believe: At 6:30 a.m., on a Thursday, in less-than-perfect weather, there were easily 100 people running the path I was taking. This was both comforting and irritating. On one hand, as a person with little experience in New York, it was good to know I was going the right way; but on the other, it was hard to enjoy the experience when trying to dodge such a pack. In Moscow, I had nearly the opposite experience. In a city I knew so well, I never feared getting lost, but on the flip side, it would have been comforting to be a little less alone.
But I wasn't alone for long. A funny thing happened as I was running toward the stereotype of Russians as people who only exercise in matching spandex at Planet Fitness. The more I ran in Moscow, the more people I saw doing the same. One morning it was a foreign-looking guy in shorts, a sweatshirt, a knit hat and gloves. Another morning, it was a middle-aged lady in sweats and a fur hat. Then it was a group of four or five people who looked about like me – leggings, windbreaker, sweat-wicking polar fleece cap. Of course, none of them had a windbreaker the same color orange as that of the street cleaners, so I'm sure I managed to stand out in the crowd after all.
All rights reserved by Rossiyskaya Gazeta.