Stages far from Moscow defy regional stereotypes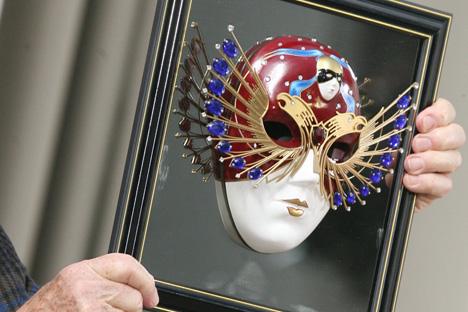 The Golden Mask, Russia's national theater award, is given in different genres, ranging from drama and ballet to modern dance and puppet theater. Source: Rossiyskaya Gazeta / Viktor Vasenin
A few years back, I was invited to Magnitogorsk to be a jury member for the Theater Without Borders festival. It was, I was told when I arrived, a showcase of "theater made in the regions." The point was that nobody spoke of "regional theater"; the adjective "regional" is a pejorative. The "region" — a definition of place — is the proper term.
Whatever the case may be, I remembered this experience recently when I read an article written by Yulia Yakovleva and published on Forbes.ru. Its purpose is clearly stated in the title: "Ten Regional Theaters Worth Visiting." The venues cited in the article are: Omsk Drama Theater, Pushkin Drama Theater of Krasnoyarsk, Krasny Fakel in Novosibirsk, Voronezh Chamber Theater, SamArt of Samara, Kiselyov Youth Theater of Saratov, Kolyada Theater of Yekaterinburg, Nizhny Novgorod Youth Theater, Pushkin Drama Theater of Magnitogorsk and U Mosta Theater of Perm.

All of these theaters have been nominated for Golden Mask awards at one time or another. The Golden Mask is Russia's national theater award. It is given in all genres of theater, including drama, ballet, modern dance, musical and puppet theater.

Perm's U Mosta Theater has made a mighty reputation as a house working on an interesting mix of classic plays and contemporary English-language dramas. In fact, if there is one thing U Mosta is famous for above all, it is its productions of the plays of Martin McDonough. The Irish writer enjoyed an extraordinary boom of interest in Russia three or four seasons ago and that was due, in large part, to the efforts of U Mosta.
Under the guidance of founder and artistic director Sergei Fedotov, the playhouse has explored McDonough's eerie world of outsiders, savants and crazies with great success. One of scores of theaters that were opened during the Perestroika years, it is one of just a few that continue to work and expand operations.

Mikhail Bychkov's Chamber Theater from Voronezh became a household word in Russian 
theater households about a
decade ago. Bychkov staged 
several attention-getting works that ranged from dramatizations of Fyodor Dostoevsky's prose to productions of contemporary plays by Yevgeny Grishkovets and Lasha Bugadze.

The Kiselyov Youth Theater of Saratov is one of the most ambitious of all theaters in the regions. In recent years, it has set up festivals to develop new directors and new writers, and has attracted numerous directors from abroad to work on its stage. At the end of October, the renowned German director Matthias Langhoff will open his latest show in Saratov — a rendition of Heiner Müller's "Sophocles. Oedipus the Tyrant."

I have written many times about Nikolai Kolyada's Kolyada Theater. There is no wonder that his small playhouse in Yekaterinburg is included in the Forbes list. Kolyada is a renaissance man who is playwright, director, manager, teacher, mentor, producer and friend to anyone taking the time to walk through his door. Kolyada has outfitted his space with all kinds of warm, fuzzy, homey objects, but the theater he creates is as serious as the interior of his playhouse is eclectic. Last year I saw his production of Tennessee Williams' "A Streetcar Named Desire" with American director Bob Falls, who called the production the best he had ever seen of the play in his life.
First published in The Moscow Times
All rights reserved by Rossiyskaya Gazeta.