APEC and Russia's priorities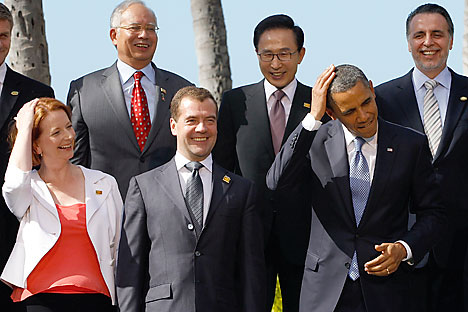 The participants in the 19th APEC summit which took place in Honolulu over the weekend called for further liberalization of trade as essential for sustainable economic growth worldwide. Russian presidential adviser Arkady Dvorkovich spoke about the list of Russia's priorities during its 12-month APEC presidency
Efforts in this direction will continue next year, when Russia takes over presidency in the APEC. The forum's summit will take place in Vladivostok on the 8th and 9th of September 2021. Russia's President Dmitry Medvedev had this to say.
"We'll pursue infrastructure projects, address food safety issues and tackle intellectual property problems. In a word, we'll deal with issues crucial for Russia's geopolitical importance."
"Russia has plenty of achievements to demonstrate to the rest of the world. These are the Strategic Arms Reduction Treaty and the WTO agreements. They are all essential for Russia and other countries. As for missile defense, unfortunately, Russia can't figure out what its partners want. Hopefully, we'll work out our stance on missile defense-related issues in the near future."
The Asia Pacific Economic Cooperation forum is planning specific steps to create a common economy to ensure greater integration within the region and expand mutual trade. To this end, the APEC countries will be taking measures to maintain market-oriented policies, promote innovative projects and secure economic growth. They will also work to ease travel within the region.
Other points of the APEC agenda focus on an early transition to a low-carbon economy in order to guarantee energy security, find new sources for economic growth and create new jobs. One of the steps towards greater growth provides for reducing energy-intensive productions by 45% in 2035.
Before the summit Russian presidential adviser Arkady Dvorkovich spoke about the list of Russia's priorities during its 12-month APEC presidency – Russia will take the helm of APEC from the United States after the summit in Honolulu on 12-14 November. He says that Russia's agenda is topped by the lists of "green" products and duty rates applied to them, energy efficiency and energy security, food security, and development of the transport infrastructure in the Far East.
Dvorkovich said that Moscow would emphasise engagement of foreign investors from the rapidly developing Asia-Pacific region in large infrastructure projects. "We have serious plans for developing our transport infrastructure in the Far East, especially the ports of Vladivostok and some other cities. We are in talks over joint development of this infrastructure with our partners in the region –Japan and Korea", he said.
Dvorkovich pointed out that Asian investors would gain access to major projects in Russia if Russian companies were allowed to participate in similar projects abroad. "When negotiating with our partners, we also discuss the possibility of Russian investors being involved in infrastructure development projects in those countries", said he added. "We hope that we will find a reasonable balance of interests in having a common transport infrastructure."
When asked whether Russian companies had the requisite expertise to participate in construction of infrastructure facilities in East Asia, Arkady Dvorkovich said "in some areas we are perfectly competitive." He said that Russian port construction technologies were "up to world standards" and cited the example of the Russian Summa Group, which was awarded a contract to build a port terminal in Rotterdam as a result of a competitive tender. "This means recognition of the high level of our expertise", he said. At the same time, Dvorkovich had to admit that Russian expertise in construction of railways and especially roads "so far lags behind".
Russia has already attempted to gain access to major infrastructure projects in East Asia. For example, Moscow has proposed a roadmap for trade and economic cooperation with ASEAN nations, which contains a number of proposals in this respect, including construction by OAO Russian Railways of a railway from Singapore to Kunming in China, a 185-kilometre railway from Purukcahu to Bangkuang, metro construction in Vietnam's Hanoi and Ho Chi Minh City, as well as involvement of Russian companies in preparation of feasibility studies for port infrastructure facilities.
Even so, the document with Moscow's proposals has not been adopted yet. According to diplomaticс sources, one reason is reluctance on the part of ASEAN nations to include "unrealistic transport cooperation ideas" in the document. "Russia should prove that it is capable of building ports and roads better, faster and cheaper than Chinese, Korean and Japanese companies", says a diplomat from an ASEAN member-state. "So far, it looks more like the joke about Russia's two main problems – fools and roads." Even in Vladivostok, the capital of the future APEC summit (which will take place in September 2012), some facilities are being built by foreign contractors. Specifically, the cable-stayed system of the main bridge over the Eastern Bosphorus Strait is designed by France's Freyssinet engineers. Yet, according to General Director of the Russian Direct Investments Fund Kirill Dmitriev, who recently signed an agreement to create a joint investment fund with China Investment Corporation worth up to USD 4 billion, the Chinese side has already identified a number of potentially interesting Russian industries that might implement projects abroad. "We have a traditionally strong helicopter industry, nuclear power engineering, construction of railways, etc. – these industries may lead the Russian expansion to other markets", Dmitriev believes.
Managing Partner of Hong Kong-based Eurasia Capital Partners Sergei Man believes Russia needs to engage Asian expertise in developing transport capacities in the Far East. "Russia needs to develop its infrastructure as soon as possible, in order to increase exports of raw materials and preserve its share of the East Asian markets for energy and metals, because, if the infrastructure fails to keep up with demand, buyers will look for suppliers elsewhere. For the time being, Russian companies can participate in infrastructure projects as financial investors and should not set unrealistic goals, like getting foreign contracts."
All rights reserved by Rossiyskaya Gazeta.