Does an education abroad matter? China says yes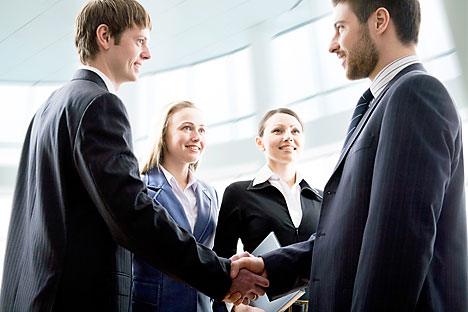 Russia is planning to recruit foreign-educated Russians for government positions in the near future. Source: Legion Media
Russia is only just now actively recruiting foreign-educated Russians for jobs in the government, but China has been doing it for three decades.
An estimated 10,000 Russians with degrees from leading international universities will be employed by Russian universities, public agencies and high-tech companies over the next five years – at least according to a plan put out by the Supervisory Board of the Strategic Initiatives Agency.
This may be a new concept for Russia, but China has been recruiting Chinese graduates of foreign universities to jobs in their native country for many years.
Over the past 30 years, almost 500,000 Chinese specialists with degrees from foreign educational establishments have returned to China; the biggest state corporations employed 400 returnees between 2008-2010. Research shows that these foreign-educated Chinese specialists are making significant contributions in China. In 2005, Cheng Li of the Brookings Institution calculated how many representatives of the Chinese political elite (members of the Central Committee of the Communist Party of China, ministers, governors and provincial committee secretaries, as well as their deputies) had considerable experience of studying or working abroad. There were 61 – including nine full members of the Central Committee (or 4.5 percent of the total number). The share of returnees stood at 13.6 percent for central ministries and agencies and at 5.8 percent for provincial committees (officials at the level of deputies prevailed in both). Half of these officials had completed full-time courses abroad and graduated with Ph.D. and Master's degrees. These figures may seem modest, but according to the ReitOR agency, in 2010, out of 1,278 top Russian officials, only three had degrees from Western universities.
As of 2005, the most prominent Chinese officials with foreign experience were the minister of education, the presidents of the Chinese Academy of Sciences, Chinese Academy of Engineering, and Chinese Academy of Agricultural Sciences, and the secretary of the party committee of Peking University. Eighty-one percent of the members of the Chinese Academy of Sciences and 54 percent of the members of the Chinese Academy of Engineering were officially recognized as repatriates.
Although there are no official statistics after 2005, some anecdotal evidence can be gained by looking at the resumes of some Chinese officials. Former President of the Academy of Sciences Lu Yongxiang, who retired this spring, holds a degree from RWTH Aachen University, Germany; his successor Bai Chunli never studied abroad, but worked at the California Institute of Technology after defending his doctoral thesis. The Chinese Academy of Engineering is headed by Zhou Ji, who holds a Ph.D. degree from the State University of New York. The current minister of education does not have any foreign experience, but two of his nine deputies hold Ph.D. degrees from foreign universities (France and Russia), one holds a Master's degree from a U.S. university, and another one worked as a researcher at Harvard for a year. In 2005, there were two repatriate deputy ministers, both with Ph.D. degrees, in the Ministry of Science and Technology; currently, the minister himself has the same degree. The president of Peking University obtained his Ph.D. from the University of Massachusetts.
There are also many foreign-educated specialists employed as advisors and experts. The list includes Xia Yong, Director of the National Administration for the Protection of State Secrets (Master's degree from the U.S.), and Wang Jisi, Dean of the School of International Studies at Peking University and former Director of the Institute of International Strategic Studies at the Central Party School. (He used to work as a researcher at Oxford, UC Berkeley and the University of Michigan). These two advisors played a key role in the development of Hu Jintao's political program, including the foreign political doctrine for China's peaceful rise to leading positions globally.
This data seems convincing enough: if someone believes that sending future Russian leaders of education and science to learn from Harvard professors is useless, humiliating or might compromise national security, over the next few decades we will have to send them to China to learn from Harvard-educated Chinese professors.
This story is abridged from the original version, which originally appeared in Russian in the Kommersant Magazine
All rights reserved by Rossiyskaya Gazeta.