Film Festival in Goa: Special programme devoted to Russian films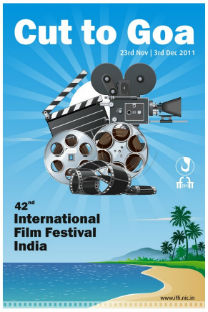 Russian films are becoming more popular abroad. India is not an exception to the rule, and one of the main events in the film industry in the country proves it.
Six Russian and Soviet films will be shown during the 42nd International Film Festival of India (IFFI) that is held from November 23 to December 3 in Goa, one of the biggest film shows in the country, according to the Russian news agency ITAR-TASS.
At the moment Russian cinema appears to have entered a new phase. The film industry survived the post-perestroika deterioration in film quality, and a significantly a reduced spending in the film industry in the 1990s and during the financial crisis in 2008. And now Russian cinema clearly is on the upswing.
Apart from big-budget blockbusters such as "Day Watch" and "Night Watch" by Timur Bekmambetov that became box office hits in 2004 and 2006 respectively, the current trend is creating high-suspense psychological dramas and art-house films focused on acute social problems. For instance, among Russian cinema's recent success stories is Alexandr Sokurov's "Faust" - new take on the German timeless legend. Nikhita Mikhalkov's "Burnt By the Sun 2: Citadel" recent Oscar nomination for the Best Foreign Language Film also made the headlines and was widely discusses in the international cinema circles.
As to the International Film Festival of India, there will be six Russian and Soviet films shown within the framework of the special programme titled "Russian classics". They belong to different genres and embrace a great range of subjects – from Russian writer Anton Checkov's famous play to description of Alexandr Pushkin and his peers' young years.
The films to be shown during the Festival are: "Zerkalo" ("Mirror") /1974/ by Andrey Tarkovsky, "Dyadya Vanya" ("Uncle Vanya") /1971/ by Andrey Konchalovsky, "Peremiriye" (Truce") /2010/ by Svetlana Proskurina, "Idi i Smotri" ("Go and Watch") /1985/ by Elem Klimov, "Den polnoluniya" (Day of the Full Moon) /1998/ by Karen Shakhnazarov and "18-14" /2007/ by Andres Puustusmaa.
Karen Shakhnazarov, general director of the "Mosfilm" film studio, and Sitora Alieva, programme director of the "Kinotavr" film festival, are expected to present the Russian films in India.
The list of the films to participate in the Grand Prix contest (the winner will be awarded with a "Golden peacock" statue and the money amount of $90,000) will be declared later. But according to the IFFI press-service, Russian films will not take part in the main contest.
The first International Film Festival of India was held in Mumbai in 1952, from January 24 to February 1. In the consequent years, it was held in Chennai, Kolkata, New-Delhi and Trivandrum. In 2004 the festival was moved to Goa, where it is has been held since.
This year а famous Bollywood actor Shahrukh Khan will be the host of the solemn opening ceremony of the Festival.
All rights reserved by Rossiyskaya Gazeta.