Suing for the right not to vote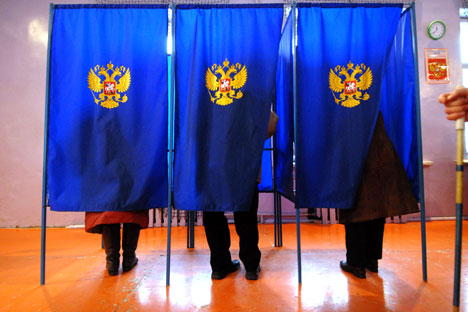 Russians votes at a polling station. Source: Kommersant
The Siberian electoral battle is as tough as well as cold. According to the polls, the pro-government United Russia party is in the lead, however the opposition is not giving up.
United Russia candidates in Barnaul, the capital of the Altai Territory, have put up posters that are more suitable for opposition candidates. In one of them, a stately matron asks: "Who doesn't know our countryside is choking?"
The poster does not elaborate on what it is exactly that is choking the Russian countryside. There are a wide range of options, including meager pay, unemployment and environmental pollution. But this kind of campaigning has provoked a storm of emotions among the people who pointed out that United Russia, after 10 years of running the country, should be asking these questions of itself. The posters were changed after these ideas were expressed on the Internet. Now United Russia's campaign slogan reads "more state support." Vladimir Nebalzin, who lives in Barnaul, considers this to be a way of bribing voters and has filed a complaint with the regional electoral committee.
"The slogan is a patent violation of the law on State Duma elections, which says that pecuniary benefits cannot be promised to electors, yet this is exactly what is happening here," Nebalzin said. "I have written to the electoral commission, but they said they could see no violations there. I wrote a complaint to the regional Prosecutor's Office, but I didn't get a timely reply. Now I have filed with the Prosecutor General's Office and I am preparing to file a lawsuit."
Nebalzin filed these complaints as an ordinary voter. He is the co-chairman of the Altai branch of the People's Freedom Party, but the party is unregistered. He is only one of many Siberians who have very few warm words to say about the "party of power."
"I will vote for the Communists," said Yelena, also from Barnaul, who declined to give her last name. "In my opinion, it is the party least affiliated with government. Obviously they are all 'pocket parties' but I don't hear as many ugly stories about the Communists as about the others."
Yelena is a young woman with a good job in a modern firm. She is the kind of person the pro-business, liberal party Right Cause should appeal to, but since expelling it's best-known member, billionaire Mikhail Prokhorov, Right Cause has again sunk into a political coma.
"It's hard to understand who is in the party, what they are up to and whose side they are on," said Yelena. "What do we Siberians stand to gain if Russia, as they argue, joins the European Union? I have been voting for the Communists for several years now."
"I might vote for Yabloko, their intellectual and reasonable approach appeals to me. But they are unelectable," said Sergei, a poet at heart who ekes out a meager living, making 6,800 rubles ($220) a month. So I will choose between the Communists and the Liberal Democratic Party, especially since its leader, Vladimir Zhirinovsky, has come up with a meaningful program for the first time in many years."
Many Siberians say they will not vote for parties whose seats in the Duma are, according to opinion polls, guaranteed. These are United Russia, the KPRF, the LDPR and Just Russia. Since the "against all candidates" box, another popular option, has been deleted from the ballots, pensioner Valentin Khanovich thought the best thing under the circumstances would be to waive his right to vote and ask the electoral commission to strike his name from the roll of voters. The electoral commission refused to do this and the trial court upheld its decision.
"I am preparing to file a suit with the regional court," said Khanovich. "If that fails, I'll go to [the European Court of Human Rights] Strasbourg."
While growing protest is not uncommon, a growing desire to give vent to such sentiments is something new," said Sergei Andreyev, of the voter's rights group Golos.
For their part, the electoral commissions are sparing no effort or money to make the elections look proper. They have printed election ballots in Braille for the blind; in the Irkutsk Region, early voting will be organized for people living in remote places, using helicopters, snowmobiles and boats; and in Khakassia, the ballot sheets will be in two languages, Russian and Khakassian, although few people can speak, let alone read Khakassian. They are leaving nothing to chance.
All rights reserved by Rossiyskaya Gazeta.