India, Russia galvanize bilateral trade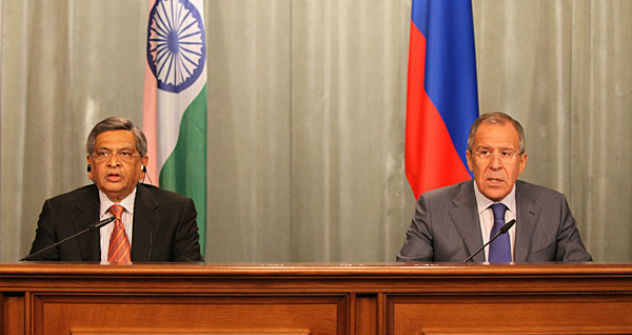 Source: Embassy of India in Moscow
India and Russia Friday decided to set up a joint public-private investment fund for financing key projects in the two countries, DNA reports.
With Russia's imminent accession to the World Trade Organisation (WTO), New Delhi and Moscow are gearing up to take several key steps to further strengthen economic ties and achieve a bilateral trade target of USD 20 billion by 2015.
According to the Hindu, the decision to set up the fund was taken at the 17th session of the Indo-Russian Inter-governmental Commission on Trade, Economic, Technological, Scientific and Cultural Cooperation (IRIGC-TEC).
The meeting was co-chaired by External Affairs Minister SM Krishna and Russian Vice-Premier Sergei Ivanov.
The size of the fund, for setting up projects in Indian states and Russian regions, and other modalities are yet to be worked out by the two sides.
Krishna was here on a three-day visit to finalise the political and economic agenda of Prime Minister Manmohan Singh's summit talks here on December 16, with Russian President Dmitry Medvedev and Prime Minister Vladimir Putin.
Several key agreements including those on on energy are expected to be signed during Singh's visit.
"Both sides have agreed on four important sectors to galvanize the bilateral trade and for fructifying cooperation," Ajay Bisaria, Joint Secretary (Eurasia) External Affairs Ministry, told the reporters after the IRIGC-TEC session.
The two countries are plan to form a joint study group to examine the possibility of a comprehensive Economic Cooperation Agreement (CECA) with the Russia, Belarus, Kazakhstan Customs Union.
Under the Customs Union that came into operation in July 2010, Belarus, Russia and Kazakhstan agreed to remove tariffs and customs controls.
The two sides are also to work on enhancing connectivity through International North-South Corridor linking India with Russia via Iran and Central Asia, to ensure speedy movement of goods and cargo.
Special emphasis is being given to set up a Joint Working Group on Modernisation to boost bilateral and multilateral technological interaction with BRICS.
The meeting noted the progress in areas, including energy (conventional and civil nuclear), IT and telecom, metallurgy, automobile industry, pharmaceuticals, gems and jewellery, banking and financial services, construction of roads and underground metro, science and technology, tourism.
Cooperation in mining, railways, water transport, aviation and ship building, bio and nano-technologies, production of fertilisers and chemicals, agriculture and textiles have been identified as the promising areas of bilateral cooperation.
The Ministry of Chemicals and Fertilisers and the Ministry of Industry and Trade of Russia have signed a memorandum on cooperation in pharmaceuticals and bio-pharmaceuticals, details of which were not immediately available.
All rights reserved by Rossiyskaya Gazeta.