More than a Game: Russian mobile developers find international success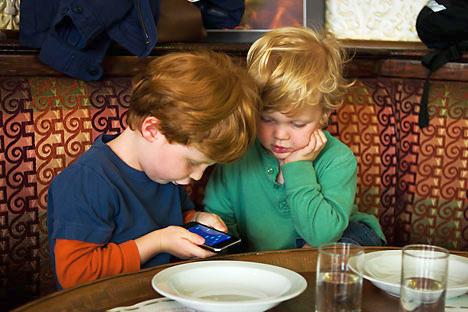 The Russian mobile content industry has been developing for almost a decade. Source: Alamy / Legion media
From Crime Story to Virtual City Playground to Pocket Blonde, Russian players steal the gaming scene.
Get out of the way Doodle Jump and Zombieville U.S.A.: Russian players in the booming mobile application and game markets are beginning to assert themselves – with world-class products as their ammunition.
Among the emerging players are traditional mobile content companies Dynamic Pixels, Herocraft and i-Free, or Game Insight, which originally focused on social games. In Game Insight's new Crime Story, each gamer can become his own crime boss, building a criminal empire by eliminating rivals and expanding the business.
Founded in Moscow in 2005 as a mobile development studio, G5 Entertainment is now a global company developing mobile and PC games on a massive scale – one release per week, claims the company's web site – with such international successes as Stand O'Food, Virtual City Playground and Supermarket Mania 2. The company is listed on the Aktie Torget equity marketplace in Stockholm and operates from Moscow, Stockholm, San Francisco and Ukraine.
But a number of much smaller developers are also making their way. Tens of millions mobile gamers across the globe are now acquainted with Cut The Rope. The game, featuring a little monster fed with candies, was developed by a Moscow team. Moscow programmer Maxim Petrov has built a flourishing business with Power Amp, which has been praised as one of the best available media players on the Android market.
"The Russian mobile content industry has been developing for almost a decade," said Leonid Kovalev, Marketing Director of Dasuppa, a Moscow- based mobile game company. "But in recent years, new generation mobile games and apps have created a new situation. Through global stores such as the Apple App Store or the Android Market, Russian developers can easily sell everywhere. Their vision and practice has become global."
There Must be an App for That
The limited size of the domestic market helped to create the thriving international market. Smartphone sales are growing fast in Russia – more than doubling from 2010 to 2011 – but the share of smartphone owners is still two times less than in Europe and in the United States, according to a recent TNS survey. The total number of iPhone and Android-supported smartphone owners barely reaches 1.5 and 5 million, respectively, according to recent estimates from i-Free.
In addition, monetization is more difficult in Russia than elsewhere. "Most Russian users are ready to pay for good mobile products," said i-Free co-founder Kirill Petrov. "But Apple's App store and Google's Android Market accept payments almost exclusively through bank cards, which Russians are reluctant to use for digital payments."
New generation mobile applications and games generate huge revenues in the tens of millions for Russian developers, Petrov estimated. Although the Russian market of traditional mobile content – from ringtones to themes to Java games – still counts in hundreds of million dollars, its decline has been anticipated by a number of developers who are switching to new generation content.
While selling traditional content in considerable amounts – the company generates $160 million in revenues from Russia and abroad – i-Free created an entire division dedicated to new apps and games in 2010. I-Free's most significant international success to date has been Pocket Blonde. Featuring a smart personal assistant, the application has been downloaded over 1 million times from the Android Market and other Android stores since its release in March 2011. In another move to position itself at the leading edge of innovation, i-Free also created a fund to invest in Russian and foreign startups.
Other companies, like Dasuppa, completely stopped producing traditional games, putting all resources into new generation products.
Outsourcing is another promising direction. While such established offshore developers as EPAM or Data Art have opened dedicated departments, dozens of smaller businesses or teams are experimenting in this new market. "These companies and teams can barely meet the demand," Petrov said. "Some Russian companies have already found additional teams or subcontractors in Belarus, Ukraine or the Baltic states."
This article has been prepared in partnership with East-West Digital News.
All rights reserved by Rossiyskaya Gazeta.