Russia Beyond The Headlines iPad app goes live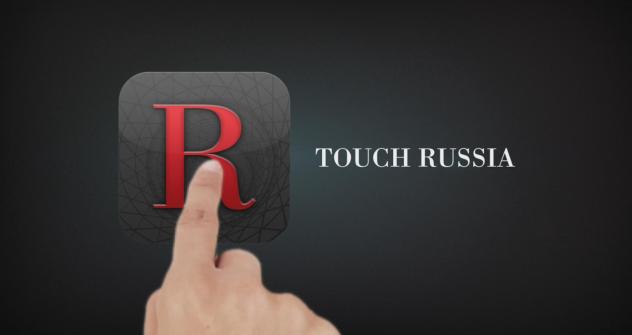 Experience "Touch Russia," a new iPad app launched by Russia Beyond the Headlines, an international project of leading Russian daily "Rossiyskaya Gazeta."
Ever wondered what really is happening in the most mysterious country in the world? Get the new iPad application "Touch Russia" and find out! The app, which is free, launched in English Nov. 22 and soon will also be available in French and Spanish.
Scan this code with your iPad or just click on it and download our app
The new app features daily updated news stories and a subscription to the monthly editions of RBTH, beautifully repackaged for the iPad experience. It also includes some unique features that are only available on iPad. "Touch Russia" has already been called "a great example of what a modern news app should look like," by media experts.

"It is a significant bid for Russia Beyond the Headlines to step into the growing and competitive market of newspaper iPad apps, which has been lacking an app about Russia as rich and interactive as the one we just produced," said Russia Beyond the Headlines publisher Eugene Abov.

"Touch Russia" delivers its content through very simple and intuitive navigation covering a range of categories, including the arts, culture, society, business, politics, and more. All content is accompanied by multimedia elements such as full-screen photographs, cartoons and videos.

One unique feature of the app is an interactive map that allows users to access stories and multimedia assets from across Russia. Interactive images with hotspots is another exciting feature; this resource is a visual library of Russia's most representative landscapes and cultural traditions.

'Touch Russia" showcases RBTH's unique approach to covering the most interesting and important stories from Russia for those readers who want to know just a bit more," said Abov, "Our international audience is highly mobile. We aim to engage readers and satisfy the growing interest in current affairs in the country, especially given upcoming milestone events such as the Sochi Olympics in 2014 and the soccer World Cup in 2018."
"What I like about this app is that it is one of the first I have seen that attempts to show news and features in a new format that uses the iPad platform well. Newspapers have been slow to experiment with new ways of displaying their content, but this app is visually-led, is easy to navigate and looks impressive." – said Adrian Michaels, Editorial Director of Telegraph Media Group who had a chance to preview the app.

Russia Beyond the Headlines is an internationally recognized source of political, business and cultural news and analysis. It offers original, on-the-ground coverage of Russia from professional, independent journalists who are passionate and knowledgeable about the country, and opinion pieces from commentators who hold a wide range of views about Russia's leadership and direction.

Since 2007, Russia Beyond the Headlines has published monthly supplements about modern Russia in leading global media. Currently, supplements are published in 17 of the world's leading newspapers, including the "New York Times" (United States), the "Washington Post" (United States), the "Daily Telegraph" (UK), "Le Figaro" (France) and "Yomiuri Shimbun" (Japan). In addition to print supplements, Russia Beyond the Headlines maintains a website https://rbth.ru, which features expanded content and resources.

RBTH's newly released iPad app, "Touch Russia," was developed by TigerSpike, an international software development company headquartered in London.
Read more: rbth.ru/ipad
---
Download Touch Russia from the AppStore and win one of 60 T-shirts from American Apparel with our logo! (U.S. residents only)
Follow these steps:

1. Download the free app

2. Make a screenshot of the Home screen by clicking the Home and Lock buttons on your iPad simultaneously. The screenshot will be saved to your Photo Roll.

3. Email the screenshot to ipad@rbth.ru. Don't forget to write your first name so we can address you in person.
All rights reserved by Rossiyskaya Gazeta.