Engaging in the sport of politics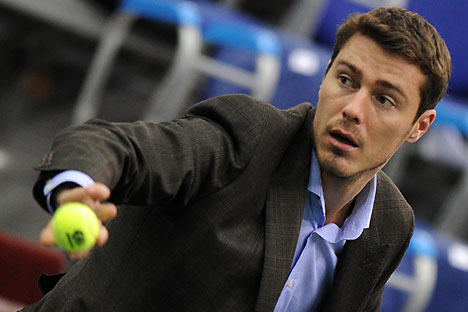 It is not uncommon for Russian athletes to be engaged in politics after their sport career. Marat Safin, a former tennis prodigy, is running for the Duma on the ticket of the United Russia party in the Nizhny Novgorod Region. Source: ITAR-TASS
Former world-class athletes are hoping their skills will pay off as they play the game of politics.
After being a Russian tennis queen, Anna Chakvetadze wants to be a queen in politics. Chakvetadze won eight WTA tournaments during her career, foreshadowing the brood of girls that later invaded the professional tennis circuit. A former world number 5, Chakvetadze impressed everyone by reaching the finals of the Wimbledon junior tournament when she was 17. In 2007, she reached the U.S. Open finals. But a long series of injuries followed, and finally in 2011, she decided to give up tennis and focus on winning election to the Duma. Chakvetadze will be running as a member of the Right Cause party, which has suffered in the polls since the loss of its leader Mikhail Prokhorov, steel tycoon and owner of NBA's New Jersey Nets, in September. "It is a great challenge for me, I have chosen Right Cause because it is a young party with innovative ideas," said Chakvetadze.
It's not an unusual path for retired Russian athletes. Marat Safin, another former tennis prodigy who is currently the vice president of the Russian Tennis Federation and a member of the Olympic Committee, is also running for one of the 450 seats in the lower chamber of the Russian parliament.
"I have many ideas to offer in the economic and social fields. And I may be the prettiest boy in the Duma, but only because the others are all over 60," joked Safin at the end of the Chengdu tournament, a competition for former starts of the ATP. The former rebel and world number one retired in 2009 after victories in two grand slam tournaments. He is running for the Duma on the ticket of the United Russia party in the Nizhny Novgorod Region.
His candidacy has one unusual supporter: Pete Sampras, the American legend who lost the 2000 U.S. Open finals to then 20-year-old Safin. "In 20 years, Marat will be the resident of Russia, I am sure," Sampras said recently. "He is smart, self-confident, and speaks foreign languages perfectly. I think he will do well for his region. Furthermore, he has a great passion for politics; he will be a resource for his country."
Safin may join the colony of former sporting champions who belong to the United Russia party, trying to put at their country's service the credibility and prestige accumulated during their sporting careers. Among them are Anton Sikharulidze, who won a gold medal in ice skating at the 2002 Olympic games in Salt Lake City and a bronze medal at the 1998 Nagano games; Alina Kabaeva, gold medallist in rhythmic gymnastics in Athens in 2004, Svetlana Zhurova, speed skating champion from the 2006 Turin games and world champion heavyweight boxer Nikolai Valuev.
All rights reserved by Rossiyskaya Gazeta.