Will India and Vietnam walk the talk?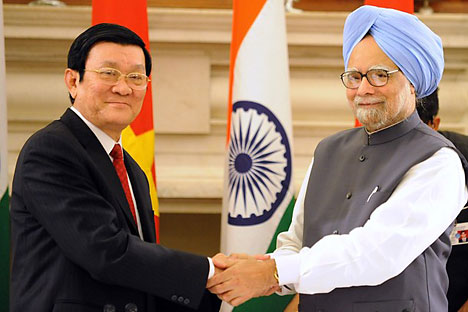 One of the highlights of the visit of the Vietnamese President to India was the signing of an agreement on cooperation in the field of oil and gas.Source: Getty Images / Fotobank
India implements its "Look-East Policy": forging closer with Vietnam under watchful eye of China. Meanwhile, the USA is willing to play a greater role in Asia-Pacific region.
Vietnam's recent request for military assistance has put India in a spot of bother. It has requested Indian assistance in the fields of submarine training, training of its pilots to fly Sukhoi-30 aircraft, modernisation of Vietnam's Nha Trang port and transfer of medium-sized warships to secure Vietnam's territorial waters. Earlier, it had also asked India for BrahMos (an Indo-Russian joint venture) cruise missiles.
This follows the successful visit of the Vietnamese President Truong Tan Sang to India last month. One of the highlights of the visit of the Vietnamese President was the signing of an agreement on cooperation in the field of oil and gas between India's state-owned oil and gas-behemoth ONGC (Oil and Natural Gas Commission) Videsh Limited (OVL) and the Vietnam Oil and Gas Group PetroVietnam (PV).
This agreement had many in China up in arms since some of the blocks mentioned in the agreement fall in what China says are "disputed waters" in the South China Sea. An article published on October 14 in the influential Global Times (known for its ties with the Chinese Communist Party) newspaper was very blunt. It said, "India is willing to fish in the troubled waters of the South China Sea so as to accumulate bargaining chips on other issues with China…. China's vocal objections may not be heeded. China must take practical actions including those to make these projects fall through."
Interestingly, the Myanmarese President was also paying a state visit to India at around the same time when the Vietnamese President was in Delhi and the Chinese would have surely noted the timing of these two visits.
However, India's relationship with Vietnam has followed a trajectory independent of Vietnam's ties with China. India's first Prime Minister Jawaharlal Nehru visited Vietnam soon after its victory against the French at Dien Bien Phu in 1954 while the legendary Ho Chi Minh came to India in February 1958. The two countries have agreed to celebrate 2012 as India - Vietnam Friendship Year which will commemorate the 40th anniversary of the establishment of full diplomatic relations between the two nations.
Forging closer ties with Vietnam is also an essential element of India's "Look-East Policy"-designed to reach out to the countries of Southeast and East Asia, with whom India has had historical and cultural ties. Two-way trade between India and Vietnam reached $2.75 billion in 2010 and is estimated to reach $3 billion this year while India figures as one of the ten largest exporters to Vietnam. The Indian government has granted a line of credit for $45 million to Vietnam for the Nam Chien hydropower project which is being constructed by India's state-owned Bharat Heavy Electricals Limited.
India's cash-rich private sector is also chipping in. India's private sector Jet Airways and Vietnam Airlines have signed a pact for direct flight partnership between India and Vietnam, in a move which is expected to boost tourist footfalls. Already, India has extended visa-on-arrival facility to Vietnamese nationals since the beginning of this year.
Vietnam growing ties with India has to be seen in the backdrop of its worsening ties with China. Vietnam and China had a major diplomatic row in June this year when Hanoi alleged that a Chinese fishing boat had "intentionally rammed" the exploration cables of a Vietnamese vessel, which had been chartered by Vietnam's state energy major PetroVietnam to conduct a seismic survey well within Vietnam's exclusive economic zone(EEZ).
Meanwhile, India has had its own share of problems with China, which has been funding and developing ports and refuelling stations in Pakistan (Gwadar), Sri Lanka (Hambantota), Bangladesh (Chittagong), and Myanmar (Sittwe and Kyaukpyu), much to India's dismay. China's refusal to openly back India's case for a seat in the United Nations Security Council (UNSC) has ruffled many feathers in India and so has its policy of issuing stapled Chinese visas to residents of the Indian province of Jammu and Kashmir.
Besides, in late July 2011, China and India had a run-in in the South China Sea for the first time. As per India's Ministry of External Affairs, the Indian Navy's INS Airavat was on a friendly visit to Vietnam between 19 and 28 July 2011. On 22 July, INS Airavat was sailing from the Vietnamese port of Nha Trang towards Hai Phong, when at a distance of 45 nautical miles from the Vietnamese coast in the South China Sea, it was contacted by someone identifying himself as the "Chinese Navy" stating that "you are entering Chinese waters". However, no ship or aircraft was visible from the INS Airavat which proceeded on its scheduled journey, India's Ministry of External Affairs said in a statement.
Meanwhile, the United States has signalled that it is more than willing to play an increasingly greater role in the Asia-Pacific. In a recent article in the Foreign Policy magazine, US Secretary of State Hillary Clinton has written that "one of the most important tasks of American statecraft over the next decade will therefore be to lock in a substantially increased investment -- diplomatic, economic, strategic, and otherwise -- in the Asia-Pacific region." It must be mentioned here that the United States will be formally joining the East Asia Summit (EAS) at the upcoming summit in Bali, Indonesia shortly. The withdrawal of US forces from Iraq and Afghanistan will allow it to reallocate its resources and energies to other theatres, especially the Asia-Pacific.
However, what India requires while deciding about providing military assistance to Vietnam is some very deft diplomacy. One factor that will weigh on the minds of India's policy planners is that trade relations between India and China are at an all-time high with total trade pegged at $ 61.74 billion last year. On the other hand, India cannot completely ignore Vietnam's request and may have to couch this assistance in diplomatese.
India and Vietnam have decided to get hitched, but it remains to be seen whether they are prepared to walk the talk.
Dr Rupakjyoti Borah is an Assistant Professor of International Relations at the School of Liberal Studies, Pandit Deendayal Petroleum University, Gujarat, India. He was a Visiting Fellow at the Centre of International Studies, University of Cambridge (2009) and an Australia-India Council Australian Studies Fellow (2005)
All rights reserved by Rossiyskaya Gazeta.