The triumph of virtual politics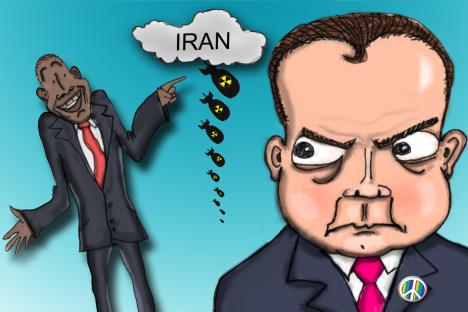 Source: Drawing by Niyaz Karim
Russian President Dmitry Medvedev has threatened to abandon the New START Treaty and deploy additional missiles if Washington continues to develop a European missile defense system. According to the National Security Council, the United States will not change its plans. But is there really any threat?
"It's like the Cuban Missile Crisis, only without missiles!" joked British journalist Tom Hurst on his Twitter page. And he is right. Russian President Dmitry Medvedev is threatening to deploy ballistic missiles that do not yet exist in response to a missile defense system that has not yet been set up and whose task is to intercept Iranian missiles that are yet to be deployed. Still, in 1962, when Nikita Khrushchev decided to deploy intercontinental missiles in Cuba, they were physically delivered to the island, which very nearly started a nuclear war.
Today we are witnessing a real triumph of virtual politics. The Obama administration has for a long time fulfilled the various wishes of the Russian leadership, and has even agreed to give written assurances that the European missile defense system will not be directed against Russia. But the Kremlin demanded a separate protocol on this subject. The White House said no. After all, such a document had no chance of passing a vote on Capitol Hill. It would be political suicide for Obama to attempt to introduce it.
The situation is reminiscent of New START, which was pushed through with immense effort. Senators and congressmen have long accused Obama of being too trusting of the Kremlin. He had been counting on his Russian counterparts to understand his position on this question. But he did so in vain. After all, Medvedev and Putin have their own electoral campaigns to think about.
And you can hardly go wrong with in-demand anti-western rhetoric here. It is certainly not by chance that Medvedev has been making such statements. After his almost inevitable return to the Kremlin, Vladimir Putin will soften the former president's words. Negotiations about the missile defense system will continue, with public squabbles flaring up periodically. After all, both Moscow and Washington know perfectly well that there will be no nuclear war between the two countries. We, sirs, will no doubt survive this "Cuban Missle Crisis Lite."
This comment has been abridged from the original version.
Konstantin von Eggert is a commentator and host for radio Kommersant FM, Russia's first 24-hour news station. He was a diplomatic correspondent for Izvestia and later BBC Russian Service Moscow Bureau editor-in-chief. He was also once vice president of ExxonMobil Russia

All rights reserved by Rossiyskaya Gazeta.