A mix of Russian Orthodoxy and modern photography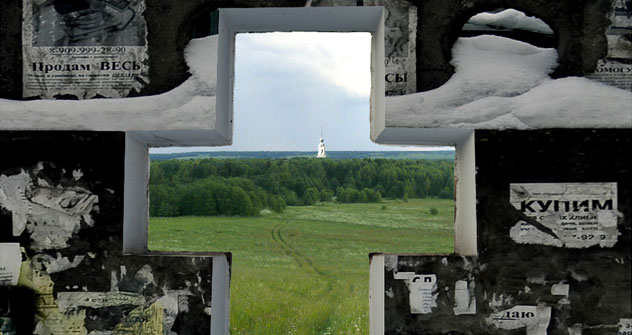 Ivan Zhuk's photography combines two controversial ideas of the Russian Orthodoxy and modern art. Source:
Ivan Zhuk is something of a rarity in Russia. His working life combines two things that have been completely separate entities since Soviet times began, or maybe even before – this man's work encompasses religion and art.
Ivan Zhuk's photography combines two controversial ideas of the Russian Orthodoxy and modern art.

Ivan Zhuk first got his hands on a camera at the age of 15. Now he is nearly 56, and has spent 18 years of his life in a monastery. It is only quite recently, eight years ago in fact, that he became interested in religious photography and started capturing the faces of Russian Orthodoxy on film.
Most Orthodox Christians try to keep art at a respectful distance, in the belief that it often leads people astray. But Ivan Zhuk does not share this view of his brothers in faith, and he uses his work to show that art can actually serve to lead people to the true path of virtue. The photographer says that too many works of art have overt or covert references to the Antichrist, like for example in Lungin's film "Island". This has made Russian Orthodox Christians suspicious of the art world, even though they, like everyone else, cannot help but admire beauty and beautiful things.
Ivan Zhuk's photography is unique. His pictures reveal an aspect of Russian life that is largely hidden. He takes pictures of people who often slip beneath the radar in modern times: the clergy, novitiates, monks and holy fools. These people are not always keen to be photographed, but Zhuk manages to persuade them, as people in the Russian Orthodox community understand and trust him. Every one of his portraits tells the story of its subject. The photographer says he chooses his subjects carefully, and will only take photographs of people he considers worthy; people with a story to tell. Ivan Zhuk works in tandem with another photographer – Igor Tyrtov, who then digitally enhances the photos using Photoshop. The pair got to know each other when working in the monastery bakery.
Ivan Zhuk sees Russian Orthodoxy as the cornerstone of Russian culture. His philosophy is quite simple: every nation should uphold its traditions. "No matter how hard he tries, an elephant is not going to turn into an antelope; he will always be an elephant and he should therefore live as elephants are supposed to", says the photographer. "Whether we like it or not, the fact is that Americans somehow manage to make a film about a terminator much better than we can here in Russia. And this works the other way too, no one from China will be able to make a Russian Orthodox Christian of himself. We are always looking to the West, and the main problem in Russia today is that we lack a sense of our own worth, our own identity; and this is the very thing that Russian Orthodoxy gives us. If a person can feel the presence of God in his life, this will give him the strength to cope with even the most unbearable and difficult situations".
In the future Ivan Zhuk plans to make a Russian Orthodox film, something he is very well qualified to do, as he is a trained cinematographer. His films have received many awards at Orthodox film festivals.
All rights reserved by Rossiyskaya Gazeta.